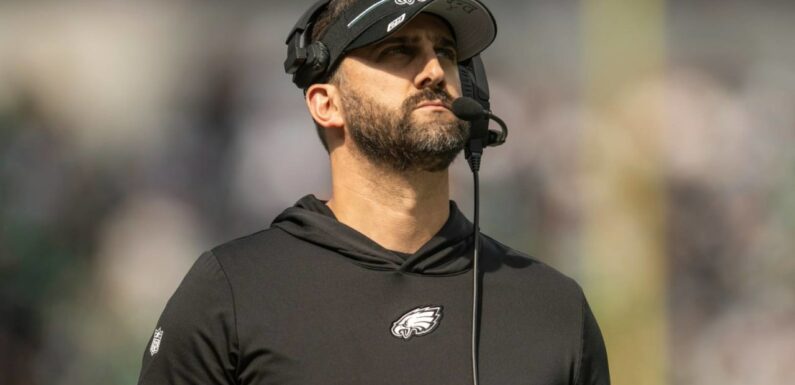 In the 104-year history of the NFL, the Philadelphia Eagles have never lost to the New York Jets.
Ahead of Sunday's showdown at MetLife Stadium, Philly sits 12-0 all-time against Gang Green. It's the best win-loss record by one team over another all-time, per NFL Research.
The others on the list are products of a bygone era:
Green Bay Packers 10-0 vs. Brooklyn Tigers/Dodgers
Frankford Yellow Jackets 9-0 vs. Buffalo Bisons
Green Bay Packers 8-0 vs. Minneapolis Red Jackets
Buffalo Bisons 7-0 vs. Columbus Tigers
Related Links
Week 6 NFL picks: 49ers, Eagles stay perfect; who wins Cowboys-Chargers showdown Monday night?
NFL Power Rankings, Week 6: Eagles vault back up to No. 2, Lions hit top five, Jaguars crack top 10
The First Read: Bandwagons to hop on/off following surprising Week 5; must-see showdown in Week 6
Not that any of this means diddly squat to the 2023 versions of the clubs, but history lessons can be fun.
"I mean, before right now, I had no idea, so I could tell you I don't really care about that," Jets' running back Breece Hall said of the 0-12 record versus Philly, per the Associated Press. "Every game, you're looking at coming out and winning, so just because they're undefeated or whatever doesn't really play a factor in motivating us to win."
Philly enters the matchup 5-0 despite some rough edges that need sanding moving forward.
The 2023 Eagles are the first team to start 5-0 the season after losing the Super Bowl since the 1991 Bills (went back to the Super Bowl and lost). Of the five prior teams to start 5-0 after losing the Super Bowl, three made it back (1991 BUF, 1974 MIN lost again; 1972 MIA won, completing a perfect season). The 1981 Eagles also started 5-0 the season after losing SB XV (went 10-6, L in Wild Card Round).
With a win Sunday, Nick Sirianni could join Tony Dungy (2005-07, Colts), Mike Martz (2000-01, Rams), Mike Shanahan (1997-98, Broncos) and Mike Ditka (1985-86, Bears) as the only NFL coaches to start consecutive seasons 6-0.
Like Hall, Sirianni isn't awed by any historical significance.
"That was the first I heard about it right there, so you just broke the news to me," Sirianni said. "It's a journey, right? It's a long journey. I guess when I was 1-0 after we played Atlanta (in his 2021 debut), when we were 1-0, I had the best winning percentage, too, right? I've gone down since then, whatever it is. Long journey. A lot of the season to play."
Sunday's tilt offers several enticing matchups.
Hall and his 7.2-yard-per-carry average versus the Eagles' No. 1 ranked run defense
A.J. Brown and DeVonta Smith vs. Sauce Gardner and D.J. Reed (if cleared from a concussion)
Zach Wilson vs. Eagles' menacing pass rush
Garrett Wilson vs. Darius Slay
Eagles O-line vs. Jets deep pass-rush crew
Jalen Hurts and D'Andre Swift vs. a bottom-five Jets run defense
A win for Philly would put them at 6-0 before a showdown against the high-flying Miami Dolphins in Week 7. For Robert Saleh's Jets, they'd enter the bye week feeling better about their trajectory at 3-3.
"What's cool is the NFC champs are walking into our building and it's an opportunity for us to get after them," Saleh said. "We've played some good football teams. We took Buffalo and Kansas City down to the wire. We've got another great one coming in.
"So, hopefully it's a fun game for everybody, and hopefully we're on the right side of it."
Source: Read Full Article