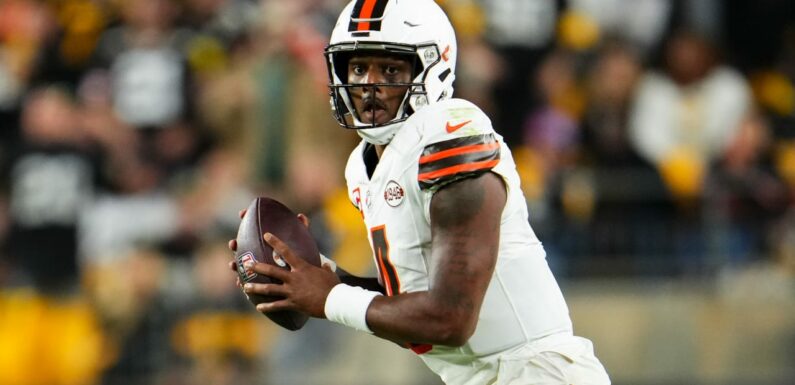 Quarterback Deshaun Watson will not face league discipline for the contact he made with an official during the Cleveland Browns' 26-22 loss to the Pittsburgh Steelers on Monday night.
The contact in question came after Watson scrambled out of bounds in the third quarter for no gain and was flagged 15-yards for an unnecessary roughness facemask penalty. Watson then appeared to make contact with an official while arguing the flag.
The NFL said on Tuesday that the contact did not warrant punishment.
Related Links
Browns QB Deshaun Watson on '(expletive)' performance against Steelers: 'Not good enough'
2023 NFL season, Week 2: What We Learned from Monday night doubleheader 
NFL Power Rankings, Week 3: New Orleans Saints crack top 10, while Cincinnati Bengals keep sliding
"Officials are called upon to maintain order on the field, and sometimes while performing those duties, there is inadvertent contact between players and officials," the league said in a statement on Tuesday, per NFL Network Insider Tom Pelissero. "In this instance, in their judgment, the contact did not rise to the level of a foul."
Pelissero reported, however, that Watson could face a fine for the two facemask penalties he incurred on Monday night.
The incident was emblematic of an overall disappointing night for Watson against the Steelers.
Watson threw a pick-six in the first quarter and then was strip-sacked for the game-winning touchdown in the fourth quarter as the Browns dropped to 1-1 on the season.
Cleveland hosts the Tennessee Titans this Sunday.
Source: Read Full Article