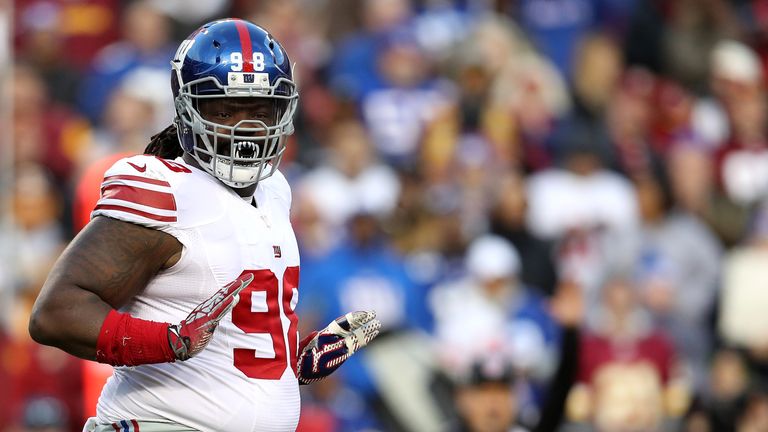 The New York Giants have agreed to trade defensive tackle Damon 'Snacks' Harrison to the Detroit Lions in exchange for a fifth-round pick, according to NFL Media.
Harrison is in the third year of a five-year, $46.25m deal he signed when joining the Giants as a free agent from the New York Jets in 2016.
NFL Network's Ian Rapoport was the first to report the news.
Source: #Giants DT Damon "Snacks" Harrison is being traded to the #Lions. Wow.
DT Damon Harrison from Giants to Lions.
CB Eli Apple from Giants to Saints.
WR Amari Cooper from Raiders to Cowboys.
RB Carlos Hyde from Browns to Jaguars.
And there still six days till NFL's trade deadline. More coming.
The 29-year-old is scheduled to make $7m (2019) and $9.25m (2020) over the next two seasons.
Harrison was named a first-team All-Pro in 2016 – his first season with the Giants – and is considered one of the NFL's best run-stopping defensive tackles.
The Lions have struggled against the run this season, allowing 139.3 yards per game (third most in the NFL) and 5.3 yards per carry (joint most alongside the Denver Broncos).
Harrison is the second player the 1-6 Giants have traded away this week, after moving cornerback Eli Apple to the New Orleans Saints in exchange for fourth and seventh-round picks.
Giants head coach Pat Shurmur has ruled out trading starting quarterback Eli Manning before the October 30 deadline.
Source: Read Full Article