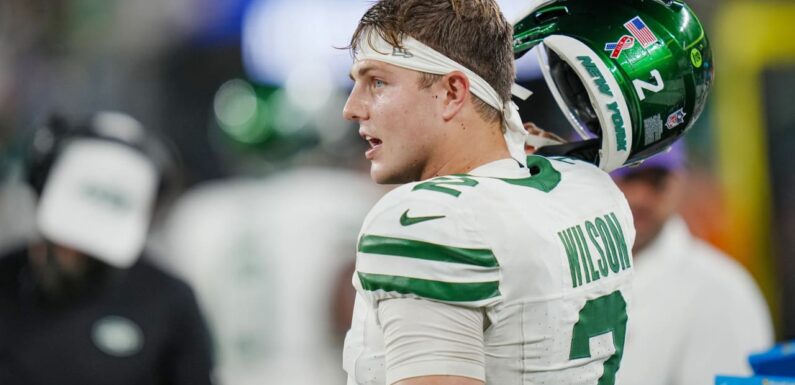 Former NFL player and scout Bucky Brooks knows the ins and outs of this league, providing keen insight in his notebook. Today's installment covers:
An expensive free-agent addition who's paying immediate dividends.
Another dynamic wrinkle for one of the most explosive offenses in football.
But first, a look at how the Jets can forge forward without Aaron Rodgers …
It's not over.
Despite a season-ending injury to Aaron Rodgers that has the naysayers suggesting the New York Jets are cooked, Robert Saleh's squad can overcome the abrupt loss of a four-time MVP to snap the NFL's longest playoff drought.
I know that sentiment will draw some raised eyebrows from skeptics dismissing Zach Wilson's chances of guiding the Jets into the postseason tournament, but I truly believe this roster has the pieces in place to weather this healthy dose of early adversity. I know Saleh's on board.
"I don't know why people are trying to put an obituary onto our team name," the third-year Jets coach told reporters on Tuesday. "Aaron is an unbelievable piece to this whole thing and we love him, but I think there's 52 other guys in the locker room plus the 16 practice-squad guys that believe that we can do a hell of a lot of good things here.
"While the outside world can go ahead and write whatever story they want to write, there's still the true story being written in this building."
Wise words. The Jets' ability to succeed in the wake of Rodgers' injury begins with a necessary belief in their individual and collective talents, starting with this Sunday's challenging trip to Dallas. Saleh and his staff must hammer home the message to players that they are good enough to compete for a playoff spot without their QB1 — IF they play the right way. As a team with a championship-caliber defense and a pair of potent running backs playing behind an offensive line built to maul and mash opponents, Gang Green can adopt a "bully ball" approach to chalk up wins with Wilson at the helm. In fact, it's a recipe that helped the Jets jump out to a fast start in 2022.
"We've got a championship defense, we've got great skill guys on offense, we've got an O-line that's continuing to jell and we've got a lot of faith in Zach," Saleh said Wednesday. "I think people forget that he was 5-1 before the bye week (last season) and before half the offense was decimated with injuries from a year ago. Got a lot of faith in the group that we've got."
Related Links
Week 2 NFL picks: Who wins juicy Ravens-Bengals bout? What's next for Aaron Rodgers-less Jets?
Why Jets are right to stick with Zach Wilson as new QB1 after losing Aaron Rodgers
NFL Week 2 bold predictions: Jets stun Dallas with dynamic RB duo; Anthony Richardson runs wild
NFL QB Index, Week 2: Tua Tagovailoa soars into top five; Jordan Love surges in rankings
NFL Fantasy 2023 Start 'Em, Sit 'Em Week 2: Running backs
2023 fantasy football flex rankings: Top 150 RB/WR/TE options in Week 2
As Saleh contemplates exactly how to manage his team with an inexperienced quarterback coming off a pair of underwhelming campaigns, he should take a page from his old boss in San Francisco, Kyle Shanahan. New York can look to craft creative but conservative game plans that enable the Jets to play to the strengths of a team led by its defense, running backs and massive offensive line. The 49ers relied on similar strategy to reach the NFC Championship Game last season, with their third-string quarterback leading the way.
Now, let me be clear: When comparing Brock Purdy and Wilson, Mr. Irrelevant has clearly enjoyed a better start to his NFL career. But when I look at the Jets' former No. 2 overall pick, I see the kind of natural talent and — most crucially — the improved maturity that can give him a chance to thrive in a managerial role. He stepped in as an emergency fill-in against the Buffalo Bills this past Monday night and completed 14 of his 21 passes for 140 yards with a touchdown and an interception. Kind of unremarkable. But he was supported by a running game that produced 172 rushing yards on just 28 attempts and a defense that forced Josh Allen into four turnovers. Ultimately, New York was able to prevail over Buffalo in overtime, 22-16.
With Breece Hall and Dalvin Cook both capable of churning out 100-plus scrimmage yards as runner/receivers, the Jets have the versatility and flexibility to create problems for opponents on the ground and through the screen game. In addition, the duo displays outstanding route-running skills on option routes, making them a perfect complement to star receiver Garrett Wilson in the passing game. As offensive coordinator Nathaniel Hackett builds out a simplified game plan with his new QB1 in mind, he can design plays that have the reigning Offensive Rookie of the Year as the primary target, with Hall or Cook positioned as the checkdown target nearby. The dynamic open-field running skills of each back should enable the Jets to produce chunk yardage on underneath throws when opponents double-team Garrett Wilson on the perimeter.
Though there are legitimate concerns about the Jets' offensive line holding up in pass protection, the front is loaded with massive road graders who excel at moving defenders off of the ball. If New York makes a greater commitment to the running game (35-plus attempts per contest), the O-line will eventually overpower opponents with size and strength.
Considering how the Bills struggled against the Jets' ground attack, Saleh and Hackett should see if future opponents are up to the task. If Gang Green can consistently establish the run, the team can control the clock, set up play-action passes and force opponents to execute in games that remain tight into the fourth quarter.
As Saleh moves his team toward playing a more conservative style with the offense designed to complement the defense and special teams units, he will need his coordinators to work in unison and build out game plans that fit together like puzzles. In addition, the Jets will need the team's best players, particularly on defense, to take their games to another level. Fair or not, the defense must keep the scores down and produce turnovers to help an offense that will lose some of its explosiveness with Rodgers on the sideline. The Jets will have to rely on an old-school formula to win games (running game + defense + special teams contributions = wins), and everyone must embrace the approach for the team to get it done. As the team leader, Saleh must teach and preach the "new" winning formula to the Jets daily, motivating the squad to embrace taking a different path to victory.
While skeptics have already closed the book on the 2023 Jets, Saleh can guide his team to the winner's circle by utilizing a blueprint that got the 2022 49ers all the way to Championship Sunday.
Jessie Bates III's deep impact in Atlanta
The Atlanta Falcons splashed into the free agency pool in March, signing safety Jessie Bates III to a four-year, $64.02 million deal. And in his ATL debut before the franchise faithful at Mercedes-Benz Stadium last Sunday, the pricey offseason addition looked worth every penny.
Bates played a starring role in the 24-10 win over the division rival Carolina Panthers, stuffing the stat sheet with 10 tackles, two interceptions and a forced fumble. The former Cincinnati Bengal fully showcased his elite set of skills as a ball-hawking center fielder with superb instincts and awareness. At age 26, he's right in his prime, significantly impacting games at an increasingly crucial position.
At a time when safeties are becoming marquee players in the team-building process, Bates is one of the true center fielders changing the perception of the position, standing squarely in the same class as elite deep defenders like Minkah Fitzpatrick, Justin Simmons and Marcus Williams. Free safety used to be a common landing spot for aging and/or slow corners. But the pass-happy nature of today's league has prompted teams to look for athletic defenders with unlimited range, exceptional ball skills and outstanding open-field tackling ability. With free safeties also tasked with communication duties — making checks and adjustments to coordinate the secondary like a traffic cop — the position has become an extension of the coaching staff on the field.
"We like guys that play aggressive. Guys that want to attack. We don't want to be passive. Jessie's been a lot; he's been a big addition. I think it's helped, (strong safety) Richie (Grant)," head coach Arthur Smith said back in training camp during an appearance on The Pat McAfee Show. "You know how that chemistry is in the DB room. It's like any position group. You've gotta have the right guys, it's gotta fit, and we feel good about where the scheme's at and about who's back there, as well."
Studying the tape from Week 1, Bates does indeed check all the boxes as one of the premier safeties in the league today. The sixth-year veteran baited rookie QB Bryce Young into a pair of picks with his clever pre-snap disguises and savvy post-snap reactions stemming from his diagnostic skills and educated guessing. On his first interception, Bates aligned in a two-deep shell before floating to the middle of the field to swipe a pass intended for tight end Hayden Hurst on a dig route. The anticipation and awareness displayed by Bates was a testament to his study habits and overall understanding of his role within Atlanta's scheme. He knew what Young was trying to do before the quarterback did it. The second interception came on a similar play, with Bates again jumping a dig route from his deep-middle positioning. The aggressive approach worked like a charm, as he stepped in front of wide receiver Terrace Marshall Jr. for the pick.
Bates' route awareness and overall aggressiveness condense the field for opposing quarterbacks attempting to attack the Falcons' zone defense. Furthermore, Bates' exceptional tackling skills force pass catchers to pay their taxes when venturing between the hashes. With Bates also willing to thump running backs barreling between the tackles, the veteran safety shores up any leaks against the ground game. In a league where limiting explosive plays has become Priority No. 1 for most defenses, Bates' versatility and playmaking ability could help Atlanta's defense climb the rankings as an opportunistic unit with splash potential. No small development for Smith's squad in a winnable NFC South.
With Atlanta hosting Green Bay on Sunday, Bates has another opportunity to tilt the game in the Falcons' favor. Making the third start of his young career, Packers QB Jordan Love better beware of No. 3.
Miami's new 'cheat code' with Tyreek Hill
When Mike McDaniel arrived in South Florida last year, the first-time head coach was lauded by many for his wizardry as an offensive mastermind. Now in his second year in the big chair for the Miami Dolphins, McDaniel continues to cement that reputation with the kind of subtle adjustments and new tactics that surely blow defensive coordinators' minds around the league.
In Miami's Week 1 shootout win over the Los Angeles Chargers, McDaniels broke out a few new tricks that resulted in his QB1 (Tua Tagovailoa) and WR1 (Tyreek Hill) putting up video-game numbers. It is apparent the mad scientist was in the lab this offseason, cooking up schemes to make the game easier for his best players.
The Dolphins unveiled a creative motion that gave Hill a running start to attack defenders on vertical routes and crossing patterns. Doing this for an explosive playmaker with world-class speed is like giving a sprinter a free run in the exchange zone before taking the baton in the 4×100-meter relay. After all, Hill is capable of blowing past defenders quickly after starting from a standstill position. The running start only enhances his ability to cook defenders on vertical or horizontal routes.
As a football junkie, I have seen wacky motions and shifts while watching games in the CFL and Arena Football League. Those leagues allow receivers to back up before timing out a running start that enables them to hit the line of scrimmage at the time of the snap. The head start gives receivers a significant advantage on vertical routes, as the burst they are able to generate forces defenders to change their traditional technique. But that's not legal in the NFL — receivers aren't allowed to burst forward prior to the snap.
From a schematic standpoint, since McDaniel took over, the Dolphins have featured various motions and shifts to take advantage of the superior speed of their wideouts. The team has utilized traditional motions (in which the wideout motions across the field), jet-sweep movements (in which the wideout motions quickly in front of the quarterback to take a handoff or fake a sweep) and "orbit" motions (in which the wideout motions around and behind the quarterback like a triple-option pitch man).
But in last week's thriller at SoFi Stadium, we saw something fresh. The new tactic instructs the wideout to motion from a slot alignment and sprint toward the nearest sideline, rather than across the formation. This unique motion changes the picture for the defense, disrupting the flow and altering some of the traditional adjustments utilized by defenders to counter motions that take the wideout from one side of the formation to the other. Most teams will "rock and roll" (that is, safeties will switch alignments and assignments instead of running across the field with their original receiver) to maintain leverage on the player in motion. But Miami's new inside-to-outside motion prevents defenders from switching players and puts the assigned defender in trail position at the beginning of the route.
Given Hill's superior speed and quickness, the head start is just enough to allow him to separate from defenders early in routes. Moreover, the motion provides the Dolphins with another way to give their receivers "free access" at the line of scrimmage, allowing Miami to maintain the rhythm and timing of the quick passing game. The Dolphins' expanded motion package elevates the performance of the Tagovailoa, who's shown high efficiency as a quick-rhythm thrower, and their pass catchers.
Now that the tactic is on tape, it will be interesting to see how opposing defenses adjust — starting this Sunday night, when Miami pays a visit to Bill Belichick's Patriots.
Source: Read Full Article