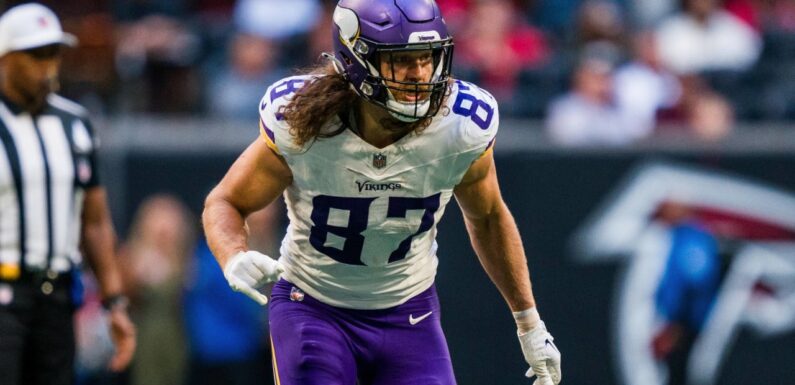 Minnesota Vikings tight end T.J. Hockenson (rib) is expected to play Sunday against the Saints, NFL Network Insider Ian Rapoport and Tom Pelissero reported.
Hockenson was limited in practice all week and earned a questionable designation on Friday.
His presence will be crucial for a Minnesota squad preparing for quarterback Joshua Dobbs' first start with the team and still waiting for wide receiver Justin Jefferson's return from a hamstring injury. 
Hockenson served as Dobbs' safety blanket in Week 9's miraculous comeback over the Falcons, which saw Dobbs pressed into action just five days after joining the Vikings at the trade deadline. 
The Pro Bowl tight end shouldered a 33.3% target share in that contest and turned his 12 looks into a team-leading seven catches and 69 yards. He has 60 receptions for 547 yards and three touchdowns on the season.
Meanwhile, K.J. Osborn has cleared concussion protocol, but that doesn't necessarily mean he will play — the Vikings still want to check on him before the game, per Rapoport and Pelissero. 
If Osborn misses, it will thrust promising rookie Jordan Addison into an even larger role and mean extra targets for complementary pieces like Brandon Powell.
The Vikings (5-4) and Saints (5-4) kick off Sunday at 1 p.m. ET.
Other injuries we are keeping an eye on ahead of Sunday's Week 10 games:
Baltimore Ravens running back Keaton Mitchell (hamstring) is expected to play Sunday against the Browns, NFL Network Insider Ian Rapoport reported, per a source. Cornerback Marlon Humphrey (hamstring) is optimistic about playing but needs to clear the pregame warmup first, per Rapoport.
Cincinnati Bengals wide receiver Ja'Marr Chase (back) is considered 50-50 at best to play Sunday against the Texans, Rapoport and NFL Network Insider Mike Garafolo reported. The door is open and there is no structural damage, but it is unclear how functional Chase will be, Rapoport and Garafolo added.
Dallas Cowboys wide receiver KaVontae Turpin (shoulder) did not practice all week and is unlikely to play Sunday against the Giants, but the team will evaluate him before the game to be sure, Rapoport reported.
San Francisco 49ers left tackle Trent Williams (ankle) faces an uphill battle to play Sunday against the Jaguars, Rapoport reported. Williams will potentially go through a pregame workout, but it is expected to be a challenge, per Rapoport.
Tennessee Titans quarterback Ryan Tannehill appears to be a long shot to be active Sunday against the Buccaneers, Rapoport reported. If Tannehill cannot suit up as Will Levis' backup, Malik Willis will assume the No. 2 role.
Washington Commanders wide receiver Curtis Samuel is expected to play Sunday against the Seahawks despite a toe injury, Rapoport reported, per a source.
Source: Read Full Article