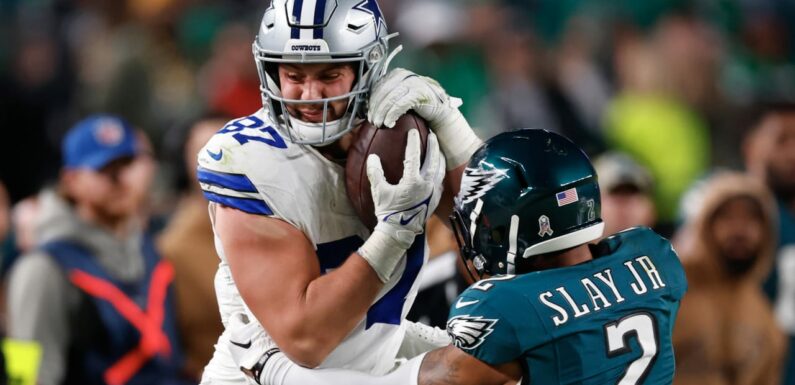 Welcome, one and all, to the tight end renaissance. In a Week 9 full of duds at other positions, it was the tight ends who picked up the slack, with eight guys scoring 16-plus fantasy points. The majority of the week's top 12 scorers at the position were starters or streamers, including several names recently featured in this column. If you're not rolling out one of the every-week studs, you're gonna want to make your way down to the TE section below.
If you're here for another position … I'll do my best. It's not pretty.
As always, these are the most intriguing players who are rostered in less than 60 percent of NFL.com leagues. If you have questions, my DMs are open: @MattOkada on Twitter … or X … or whatever it is.
Related Links
The First Read: Unconventional midseason awards; plus, MVP rankings and Week 10's must-see game
2023 NFL season, Week 9: What We Learned from Sunday's games
NFL stats and records, Week 9: Texans' C.J. Stroud, Dare Ogunbowale pass, kick their way into history
QUARTERBACKS

ROSTERED: 41%
This is it. Murray must be added to the 53-man roster this week in order to meet his 21-day activation window. And after avoiding the Ravens and Browns the last two weeks, a matchup with the Falcons feels perfect. Atlanta's defense just surrendered 25 fantasy points to Murray's former stand-in, Joshua Dobbs (including 66 yards and a touchdown on the ground). And I will remind you once again: Murray has averaged 20.4 fantasy points per game in his career. He will be an immediate top-12 consideration at the position, both for this week and beyond. If you've been streaming QB, Murray could be a permanent answer. Get him on your roster and in your lineup.

ROSTERED: 21%
Murray and Mayfield were the first two names in last week's column. We don't fix what ain't broke. Mayfield was an excellent stream, putting up 19 fantasy points in a heartbreaking loss to the Texans on Sunday. He has now thrown for 230-plus yards and multiple touchdowns in three of his last five games — and his only dud over that span was against the stout Lions defense in Week 6. The Titans are a bit of a mixed bag as a fantasy matchup — they aren't particularly tough against the pass, but also don't tend to face a ton of attempts. But the Buccaneers are a pass-heavy squad regardless of their opponent, and I expect Mayfield to carry the load again against Will Levis and Co.

ROSTERED: 52%
Carr is pretty heavily rostered, but might be available in your league. If he is, and you're in need, he's established one of the safer streaming floors in the NFL over the last month. In fact, only two quarterbacks have played and finished in the top 12 in each of the last four weeks: Jalen Hurts and Carr. No, that's not a typo. Carr has yet to display any sort of ceiling this season (he legitimately has not hit 20 fantasy points yet), but in the currently barren QB landscape, a solid 16-18 fantasy points is more than enough to justify a stream. Go ahead and roll out this Carr.

ROSTERED: 35%
The rookie was not good for fantasy on Thursday night against the Steelers, but he once again looked like a legitimate NFL quarterback and showed the promise and upside he could bring for fantasy managers down the line. The Buccaneers (Levis' Week 10 matchup) don't have anywhere close to the pass rush that Pittsburgh does, which means we should get to see Levis with time to throw this week. He's a mid-range QB2 for this week and has some targetable matchups (the Colts and Dolphins) on the horizon.
RUNNING BACKS

ROSTERED: 74%

ROSTERED: 53%

ROSTERED: 55%
All three of these running backs are likely rostered if your league is reasonably competitive, but they merit a mention anyway as they should be rostered in 100 PERCENT of leagues. Edwards is technically above this column's rostership threshold, but he is playing like an RB1 and must be started everywhere. Warren and Hubbard are two of your best waiver-wire bets for double-digit performances week to week. Let's make this the last time any of these names make the column.

ROSTERED: 27%
Like it or not (and none of us like it), Falcons head coach Arthur Smith is intent on using Allgeier early, often and in crucial situations (i.e., at the goal line), to the detriment of Bijan Robinson. Allgeier out-touched Robinson 14-13 against the Vikings and scored the red-zone rushing touchdown to outproduce him in fantasy, as well. Obviously, Allgeier would be a better start if he weren't splitting time with the highly drafted rookie, but Atlanta's commitment to this committee simply cannot be ignored. This Sunday, they get the Cardinals, who have been atrocious against the run for most of the season, allowing 129 yards per game and 12 total touchdowns on the ground. Allgeier is very nearly a must-start in this matchup, and he remains one of fantasy's top handcuffs, as well.
GUYS TO 'STACHE: The fact that we're already down here in the guys to 'stache should tell you how poor this week's RB waivers really are. So, lower your expectations before proceeding. Rams RB Royce Freeman out-carried Darrell Henderson Jr. 12-10 in an ugly loss to the Packers and has been the more efficient rusher since both guys were called into action. The Rams are on bye in Week 10, but should Los Angeles get Matthew Stafford (and therefore a functional offense) back in Week 11, Freeman could be an intriguing play. We saw the explosive ability of Ravens undrafted rookie Keaton Mitchell in Sunday's beatdown of the Seahawks — to the tune of 138 yards on nine carries, including a 60-yard carry and a 40-yard touchdown. He would need to supplant Justice Hill or Gus Edwards to be a reliable start, but has league-winning upside if the opportunity does arise. Kenneth Gainwell is basically unstartable as long as D'Andre Swift is healthy, but this is a friendly reminder that he's worth 'stache-ing on deeper rosters just in case. He's been effective when involved, averaging 7.3 yards per carry on Sunday and supplying an acrobatic 12-yard touchdown run.
WIDE RECEIVERS

ROSTERED: 56%
Don't get your hopes up — he's rostered in quite a few competitive leagues — but give your waiver wire a quick peek for Dell. If he's there, risk it all for the rookie revelation. Dell has played 50-plus percent of snaps in five games this season. In those five games, he has averaged 17.1 fantasy points and scored four touchdowns. He's been a bit boom-or-bust, but the booms are well worth the investment, and I believe the busts will diminish as he continues to develop through his first NFL season. If you need any extra incentive (which you shouldn't), he gets the extremely generous Titans defense in Weeks 15 and 17 (a.k.a., the fantasy playoffs). One or both of those games could bring league-winning performances from Dell, and this is likely your last chance to roster him before the homestretch.

ROSTERED: 33%
Josh Palmer was placed on injured reserve on Sunday, opening the door for the rookie wideout Johnston to stake a legitimate claim on the No. 2 role behind Keenan Allen in Los Angeles. If you're reading this on Monday morning, we have yet to see how Johnston performs in that role, but he did haul in five of six targets for 50 yards in his best game of the year back in Week 8 against the Bears. The Jets tonight are a much more difficult matchup than Chicago, so this will be a true test. That said, I'm going to be adding Johnston in deeper leagues even if he posts a dud against Sauce Gardner and Co. in prime time. The urgency of the pickup simply goes up if he manages to enjoy a strong performance.
ROSTERED: 39%
I've done my best to resist including Shaheed in this column over the course of the year, as his production has been incredibly volatile through a season and a half in New Orleans. But between his recent involvement and the lack of better names at the position, here we are. Shaheed is a threat for a huge play nearly every week, and while missing the big play usually means a single-digit dud, it can be a risk worth taking for deep rosters in need. Week 10 brings a matchup with a beatable Vikings secondary and puts Shaheed in the conversation for a sneaky (and risky) start.

ROSTERED: 17%
The Patriots snagged Douglas in the sixth round of the 2023 NFL Draft and have begun to involve him more in the offense in recent weeks with Kendrick Bourne out for the year. He caught five of seven targets for 55 yards on Sunday against the Commanders (in his third straight game with six-plus targets). The upside is severely capped by Mac Jones and this struggling offense, but Douglas is something of a "streamable" wide receiver in a pinch. A really, really bad pinch.
GUYS TO 'STACHE: Only one name this week, but Khalil Shakir is becoming more and more interesting in Buffalo. While Gabe Davis continues to disappoint at least as often as he excels, Shakir has caught all of his targets in three straight weeks, for a total of 14 receptions and 184 yards. He's still running fewer routes than Davis, but seems like the much more reliable third option behind Stefon Diggs and Dalton Kincaid regardless. Worth tucking away in deeper leagues.
TIGHT ENDS
SPOILER ALERT: This section of the column is going to look familiar. Several of these names have been showing out consistently of late. To make things clear and easy for those of you who've been here in recent weeks, here's a quick, rest-of-season evaluation:
Trey McBride, Taysom Hill and Jake Ferguson: These studs are all must-roster players and should be started in just about every league. If you don't have Travis Kelce, Mark Andrews, T.J. Hockenson or Sam LaPorta, one of these three could be your permanent starter. (Note: You're also not dropping George Kittle, Evan Engram, Cole Kmet or Dalton Schultz — but anyone else is fair game.)
Jonnu Smith and Cade Otton: Both these guys fall into a large tier of names worth weekly stream consideration — guys like Logan Thomas and David Njoku. They're absolutely worth having on your bench to play in soft matchups.
And now, for those of you who are new here, let's go a bit more in depth on each TE.
ROSTERED: 42%
Few things excite me more than watching Hill run out onto the field to take a snap in the Saints' offense. The man is unstoppable. Over the last three weeks, he's logged three rushing touchdowns, a passing touchdown, a receiving touchdown and a grand total of 210 yards from scrimmage (that's 70 per game). Sure, the shoe might eventually drop and Hill might have a game with three fantasy points. But what tight end doesn't have that kind of floor? Travis Kelce had just 4.4 points on Sunday morning, and he's the only tight end to outscore Hill over the last month — by one point. Until we see something change, Hill is a locked-and-loaded start.

ROSTERED: 32%
A week after his 25.5-point breakout, we saw McBride's absolute floor in a 5.2-point stinker against the Browns on Sunday. I could not care less. Cleveland was the absolute worst matchup for tight ends coming into the week, and McBride was attempting to catch passes from an utterly inept Clayton Tune at quarterback. This week should bring the return of Kyler Murray and the next three games all bring opponents in the top eight in schedule-adjusted fantasy points allowed to tight ends this year. If you told me to pick a TE not named Kelce or Andrews to lead the position in scoring over the next three weeks, I'd strongly consider McBride. Add him, start him, profit.

ROSTERED: 40%
Ferguson was an absolute monster in the Cowboys' near-comeback against the Eagles on Sunday, corralling seven of 10 targets for 91 yards and a touchdown. He has scored 14-plus fantasy points in both games since the Dallas bye week and in three of his last five games in total. Most importantly, he leads all tight ends and ranks fourth in the league at any position with 14 red zone targets — behind only WRs Davante Adams, Ja'Marr Chase and Michael Pittman Jr. With Dak Prescott and the Cowboys' passing game firing on all cylinders, Ferguson is one of the best bets for a receiving touchdown in any given week.
ROSTERED: 18%
After trending downward in two straight weeks, Smith broke back out in the 31-28 loss to the Vikings on Sunday. The true starting TE1 in Atlanta (sorry, Kyle Pitts) caught a team-high five passes (on six targets) for 100 yards, including an impressive 60-yard catch-and-run touchdown. Smith is now one of just five tight ends to have a 100-yard game this season. And like I talked about with Allgeier above, he is being intentionally schemed into opportunities, despite the presence of highly-drafted teammates on the depth chart. His 422 receiving yards rank seventh at the position in 2023. He does have the potential to disappear, so he's more of a solid streamer than a must-start. But he's in the conversation for the latter.

ROSTERED: 2%
Otton had the breakout game of his career in Sunday's late loss to the Texans, snagging six of nine targets for 70 yards and two touchdowns. It marked his third straight game with eight-plus fantasy points (and fourth in his last five). The matchup this week against the Titans is far less favorable, and Otton is always going to be the third option (at best) in the air attack, so I'd rather have any of the names above. But if they're already rostered, or you need a guy to 'stache, Otton is a name to consider.
DEFENSES

ROSTERED: 36%
The Seahawks have averaged 3.4 sacks per game this season, tied with the Browns for third-most in the league. The Commanders have allowed 4.9 sacks per game, second-most in the league. You see where this is going? If Seattle has fewer than four sacks in Week 10, it will be a Washington miracle. And pressure is the most important ingredient in cooking up turnovers — along with oft-careless quarterback play, like we've seen from Sam Howell all season. Seattle is one of the best plays of the week and is likely available on your waiver wire.

ROSTERED: 2%
Thursday night provides a battle of incredibly stoppable force vs. highly movable object. Carolina's offense has been atrocious both on the season and over the last month — the Panthers have given up 15 sacks and six turnovers in their last four games alone. They just surrendered 26 fantasy points to the Colts defense on the merits of two pick-sixes (both by Kenny Moore II). And while the Bears D/ST has scored a total of one fantasy point over the last two weeks (seriously), they scored 35 over the prior three weeks against the Commanders, Vikings and Raiders. Carolina's offense is at least as bad as that trio. High risk, high reward in this one.
BONUS ADVICE: This is going to be a little wild. Buckle up. If you're blessed with a bit too much bench depth and are willing to orchestrate a highly questionable trade, it might be worth pinging the manager with the Cowboys D/ST. After an expected dud against the Eagles, Dallas has now had fewer than five fantasy points in three of its last four games. The others came against the 49ers and Chargers. Up next for the 'Boys? The Giants (without Daniel Jones), the Panthers and the Commanders. They might be one of the highest scoring "players" in fantasy over the next three weeks, let alone the top defense. I'd legitimately consider trading tough-to-start guys like George Pickens or Gabe Davis in order to snag a true difference-maker at the D/ST position.
Source: Read Full Article