Los Angeles Lakers guard Rajon Rondo has questioned Chris Paul's integrity while dismissing the Houston Rockets player's accusation that he intentionally spit at him during an on-court brawl.
The pair came to blows during a heated contest between the Lakers and Rockets at the Staples Center on Saturday night, with Paul claiming after the game that the situation was escalated by Rondo spitting at him.
The Rockets sent zoomed in footage of the incident to NBA officials which appeared to back up Paul's claims and his two-match suspension was one game shorter than Rondo's.
"This is the only time I'm going to address this," Rondo told ESPN on Tuesday. "I had a mouthpiece in my mouth and I exasperated because I was about to tell him to 'get the out of here.'
"Look at my body language [in the video]. My hands on my hips. I turn away for a second. Look at (Rockets players) Eric and [Carmelo Anthony] in the video. If they saw me spit, they would have turned their face up or something. They had no reaction.
"Of course, the NBA went with [Paul's] side because I got three games and he got two. Everyone wants to believe Chris Paul is a good guy. They don't know he's a horrible teammate. They don't know how he treats people."
The brawl broke out when Rondo's Lakers teammate Brandon Ingram, who has since received a four-game ban, shoved Rockets guard James Harden.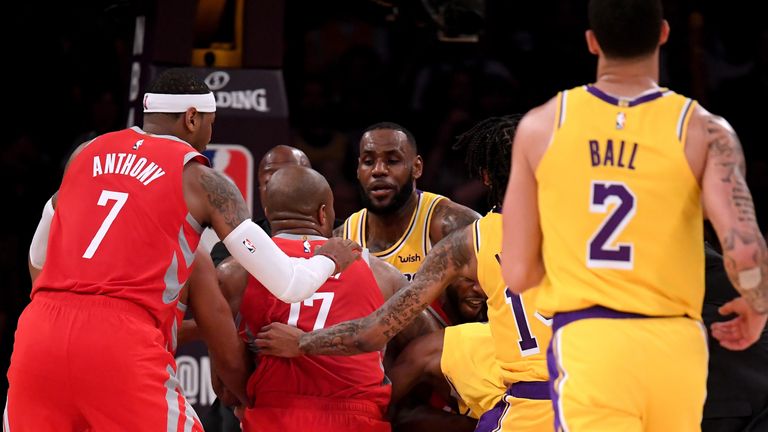 However, it was Rondo and Paul, a pair of veteran point guards who have gone head-to-head in the NBA for more than decade, who squared up.
Rondo raised further questions over Paul's character, highlighting an incident that occurred last season when Paul reportedly led his Rockets teammates into his former club's locker room following a game of testy exchanges.
"Look at what he did last year when he was in L.A; trying to get to the Clippers' locker room," Rondo said.
"They don't want to believe he's capable of taunting and igniting an incident.
"He comes out and says I spit and the media sides with that."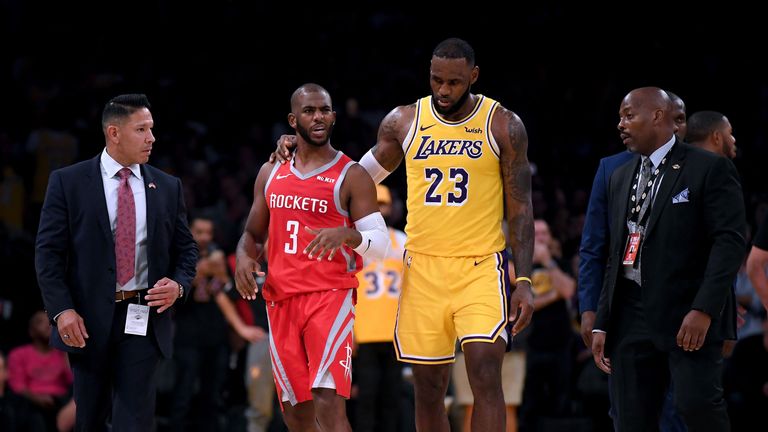 Paul, who poked Rondo in the eye in response to the perceived spit before punches began be to be thrown, also addressed the media on Tuesday, describing the suspension he received as "tough".
"Somebody spit on you, you know," he told ESPN. "Play this long and that has never happened, but it is what it is."
However, Rondo doubled down on his denial, suggesting that Paul only made the accusation to justify his actions.
"Y'all are playing me with these tricks or these mind games, tampering with the evidence," Rondo said. "Ain't no way that I intentionally spit on you with my body language the way it was.
"One, if I spit on you, bottom line, there is not going to be no finger-pointing. If you felt that I just spit on you, then all bets are off.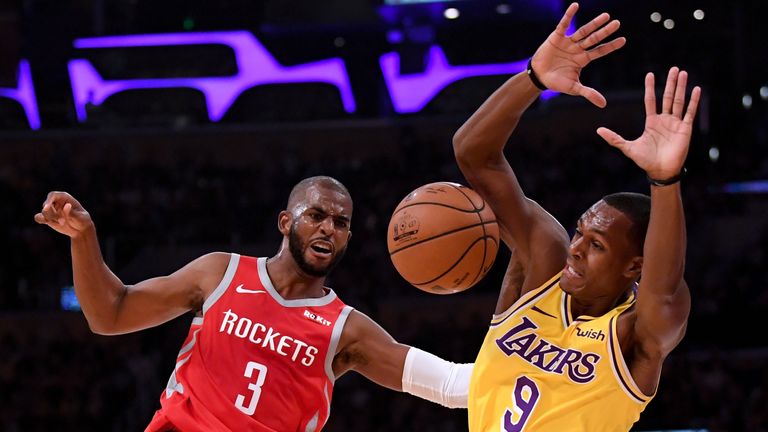 "Two, look at my body language. If I spit on you on purpose, I'm going to be ready for a man to swing on me. You ain't going to have my hands on my hip and my head look away at someone if I spit on them. After the goes down, within 30 seconds, you run and tell the sideline reporters that I spit on you? If I spit on you, you are trying to get to me. You not trying to make up a story so you can look like a good guy. It makes no sense to me."
Paul served the first game of his suspension Sunday night, missing a loss at the Clippers, and he'll also sit out when the Rockets play the Jazz on Wednesday before returning for a home game against the Clippers Friday.
Rondo and Ingram both sat out Monday's overtime loss to the Spurs and will miss games at Phoenix on Wednesday and hosting Denver on Thursday. Rondo will return for a trip to San Antonio on Saturday, and Ingram will return Monday at Minnesota.
Sky Sports is the new home of the NBA in the UK with live coverage throughout the week, including selected live games free to all Sky subscribers via Sky Sports Mix.
And www.skysports.com/nba will be your home for news, reports, video and features throughout the season while you can follow us @SkySportsNBA
Source: Read Full Article