LeBron James scored 29 points as the Los Angeles Lakers edged the Dallas Mavericks 114-113 at the Staples Center.
Wednesday night's results
Dallas Mavericks 113-114 Los Angeles Lakers
LeBron James made a tie-breaking free throw with 2.1 seconds left as the Los Angeles Lakers held on for a 114-113 win over the visiting Dallas Mavericks on Wednesday night.
The Mavericks tied the score after trailing by 19 points in the third quarter and by 14 points in the last four minutes of the game.
After James hit 1-of-2 free throws to restore Los Angeles' lead, Dallas' JJ Barea missed a desperation three-point attempt at the buzzer.
Pistons @ Sixers free live stream
Watch the Pistons take on the 76ers via our free live stream on Saturday at 5pm – find out more
James scored 14 of his 29 points in the third quarter as all five starters scored in double figures for Los Angeles, who ended a two-game losing run.
Kyle Kuzma scored 18 points for the Lakers, Brandon Ingram had 17 and JaVale McGee finished with 16 points and 15 rebounds for his first double-double in 18 months.
Wesley Matthews scored 21 points to lead the Mavericks, who lost their fifth straight game. Harrison Barnes added 19 points while Barea had 15 points and 10 assists off the bench.
Utah Jazz 125-128 Minnesota Timberwolves
Derrick Rose scored a career-high 50 points, including the go-ahead basket with 30 seconds left, to lift the Minnesota Timberwolves to a 128-125 victory over the Utah Jazz in Minneapolis.
Rose shot 19 of 31 from the field, including 4 of 7 from three-point range. Karl-Anthony Towns added 28 points and 16 rebounds for the Timberwolves, and Andrew Wiggins scored 19 points.
Donovan Mitchell scored 26 points while Rudy Gobert added 22 points and 13 rebounds to lead the Jazz. Jae Crowder contributed 18 points for Utah, who took their first road loss of the season after winning four straight away from home.
Rose's performance offset the absence of starters Jeff Teague and Jimmy Butler, who both sat out of the game. Teague sat due to a sore left knee, while Butler was rested.
Rose helped Minnesota shoot 58.1 per cent from the floor, and his final basket broke a 123-123 tie in the last minute.
Utah had three shots at a tying basket in the final seconds, but Crowder, Joe Ingles and Dante Exum all came up short on three-point shot attempts.
Denver Nuggets 108-107 Chicago Bulls (OT)
Paul Millsap's putback lay-up with 0.1 seconds remaining in overtime lifted the visiting Denver Nuggets to a 108-107 win over the Chicago Bulls
Millsap followed up a miss by Nikola Jokic with an offensive rebound and a basket to erase the Bulls' 107-106 lead. The play gave Denver their sixth win in seven games this season and increased their winning streak against Chicago to six.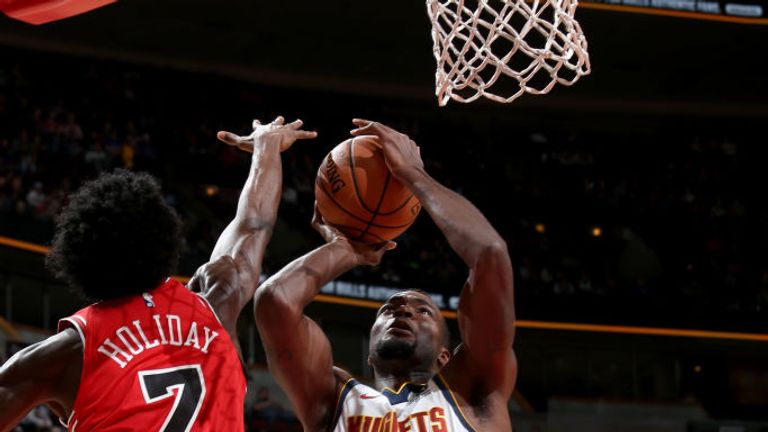 Jokic led the Nuggets with 22 points, 12 rebounds and nine assists. Millsap contributed 19 points, including the game-winning shot, and six rebounds.
Zach LaVine scored 28 points on 11-for-24 shooting to pace the Bulls. Rookie first-round pick Wendell Carter Jr added a career-high 25 points to go along with eight rebounds, five assists and three steals.
Both teams squandered chances to take the lead in the final minute of regulation. Jabari Parker had an open look for a three-pointer at the buzzer, but his attempt bounced off the rim and prompted overtime with the score tied at 98.
Detroit 119-120 Brooklyn Nets (OT)
Spencer Dinwiddie scored all 25 of his points after half-time, including a go-ahead three-pointer with 7.1 seconds left in overtime, as the Brooklyn Nets edged the Detroit Pistons 120-119 at the Barclays Center.
Joe Harris had 23 points for the Nets, and Caris LeVert supplied 19 points, six rebounds and six assists.
Blake Griffin led Detroit, who have lost three straight games, with 25 points. He also had nine rebounds and four assists. Andre Drummond contributed 24 points and 23 rebounds while Reggie Jackson added 21 points.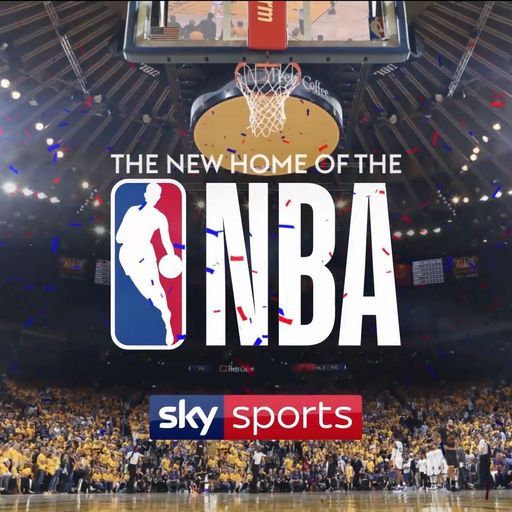 Get NBA news on your phone
Want the latest NBA news, features and highlights on your phone? Find out more
Pistons shooting guard Reggie Bullock exited in the first half with an ankle injury.
Griffin knocked down a three-pointer with 1:27 remaining in overtime to give Detroit a three-point lead. Jared Dudley's corner trey tied it at 117 apiece.
Griffin banked in a shot to put Detroit back on top. Dinwiddie then committed an offensive foul, but Griffin missed a three-point attempt.
Dinwiddie then tossed in his pivotal three-ball from the right wing before Griffin missed a shot from the elbow with 1.3 seconds left to seal the Pistons' fate.
Indiana Pacers 107-101 New York Knicks
Victor Oladipo gave the Indiana Pacers the lead for good with a fastbreak dunk off his own steal with 2:43 left in the fourth quarter and then drained a pair of pivotal three-pointers over the final 90 seconds as the Pacers beat the New York Knicks 107-101 at Madison Square Garden.
Domantas Sabonis hit all 12 of his shots from the field and finished with 30 points in just 21 minutes off the bench for the Pacers, who have won three of four. Oladipo scored 24 points while Thaddeus Young (13 points) and Bojan Bogdanovic (10 points) also reached double figures.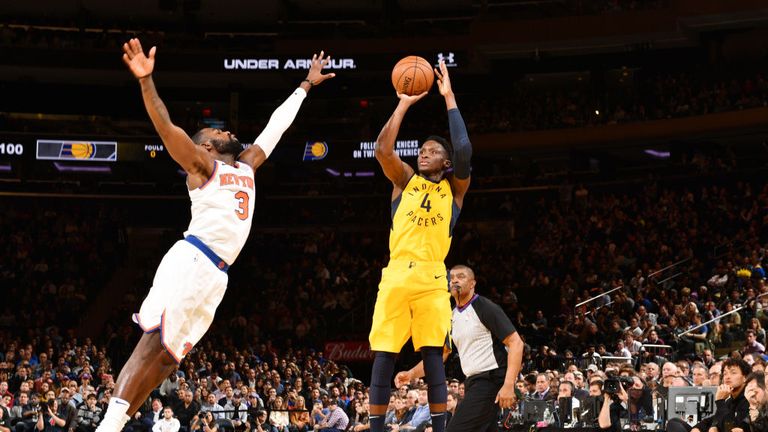 Tim Hardaway Jr scored a season-high 37 points for the Knicks, who have lost six of seven. Three of those defeats have been to a trio of Eastern Conference contenders – Indiana, the Boston Celtics and the Milwaukee Bucks – by a combined 19 points.
Noah Vonteh and Allonzo Trier each had 14 points while Damyean Dotson added 13 points for the Knicks.
San Antonio Spurs 120-90 Phoenix Suns
DeMar DeRozan and LaMarcus Aldridge scored 25 and 24 points, respectively, on 20 of 25 combined shooting in just three quarters of play as the visiting San Antonio Spurs rolled to an easy 120-90 win over the hapless Phoenix Suns.
San Antonio has won four of their past five games and improved their record on the road to 2-1 for the young season.
DeRozan, the key player received by the Spurs in the trade with Toronto for Kawhi Leonard, did the majority of his damage over the first two quarters when he scored 20 of his points. Aldridge took over in the third, reeling off 16 of his total over those 12 minutes as San Antonio led by as many as 32 in the late going, even with most of its starters on the bench.
Marco Belinelli added 14 for the Spurs while Rudy Gay hit for 12 as San Antonio shot a season-best 55 per cent from the floor despite canning just four of 18 three-pointers.
TJ Warren led the Suns with 21 points, with Mikal Bridges scoring 16 points, Trevor Ariza hitting for 14 and Deandre Ayton adding 13 points.
The loss was the sixth straight for Phoenix, which was without injured star guard Devin Booker for the third consecutive game.
New Orleans Pelicans 121-131 Golden State Warriors
Stephen Curry scored 16 of his game-high 37 points in the third quarter, helping the Golden State Warriors run up a 15-point lead en route to a 131-121 victory over the New Orleans Pelicans in Oakland.
Curry hit four three-pointers in the third period, while Kevin Durant and Draymond Green added one apiece, as Golden State, who led by just seven with four minutes remaining in the quarter, ran off to a 107-92 lead and coasted home.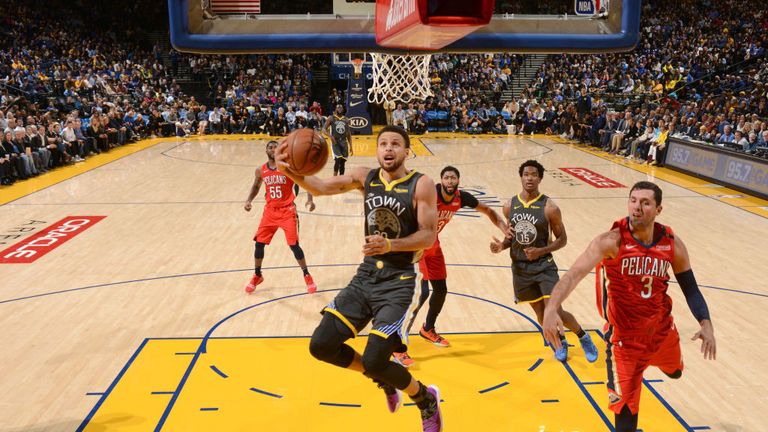 Curry shot 12-for-20 overall and 7-for-11 on threes en route to his sixth 30-point game of the season. He also found time to produce a team-high assist total (nine).
Durant finished with 24 points and eight assists, while Green flirted with a triple-double with 16 points, 15 rebounds and eight assists.
Watch the Detroit Pistons take on the Philadelphia 76ers via a free live stream on skysports.com and the Sky Sports app on Saturday at 5pm
On Saturday November 10, you will be able to follow the Milwaukee Bucks @ Los Angeles Clippers, also available on a free live stream, from 8:30pm on skysports.com and the Sky Sports app.
Sky Sports is the new home of the NBA in the UK with live coverage throughout the week, including selected live games free to all Sky subscribers via Sky Sports Mix.
And www.skysports.com/nba will be your home for news, reports, video and features throughout the season while you can follow us @SkySportsNBA
Source: Read Full Article