Kawhi Leonard scored 25 points as the Toronto Raptors beat the Sacramento Kings to improve their record to a league-best 11-1.
Wednesday night's results
Toronto Raptors 114-105 Sacramento Kings
Kawhi Leonard, who missed the two previous games with a jammed foot, scored 25 points and grabbed 11 rebounds as the visiting Toronto Raptors defeated the Sacramento Kings 114-105 on Wednesday night.
Serge Ibaka added 14 points and 14 rebounds, and Jonas Valanciunas had 11 points and 10 rebounds as the Raptors completed a four-game sweep of a Western Conference road trip for the first time in team history to go to 11-1 in their best start in franchise history.
Pascal Siakam had 21 points for Toronto, Kyle Lowry had 16 points and eight assists, and OG Anunoby chipped in with 11 points. Buddy Hield and Willie Cauley-Stein each scored for 24 for the Kings. De'Aaron Fox added 20 while Marvin Bagley III had 13.
The Raptors took a 16-point lead into the fourth quarter, but the Kings went on an 8-2 run, cutting the deficit to seven when Fox hit an 11-foot jumper with 4:52 to play.
But they would get no closer. Ibaka boosted Toronto's lead with a three-pointer before Siakam's dunk extended it to 13 with 2:43 to go.
Oklahoma City Thunder 95-86 Cleveland Cavaliers
Dennis Schroder scored a season-high 28 points as the Oklahoma City Thunder picked up their sixth consecutive win, a 95-86 road victory over the Cleveland Cavaliers.
Oklahoma City were playing without point guard Russell Westbrook, who turned his left ankle in Monday night's win over the New Orleans Pelicans. Missing their playmaker, the Thunder struggled to put away the struggling Cavaliers until an 11-2 run in the final 4:35.
Alex Abrines, who struggled from the field, took a feed from Paul George and hit a corner three-pointer to break an 84-84 tie and give Oklahoma City some momentum with four-and-a-half minutes left.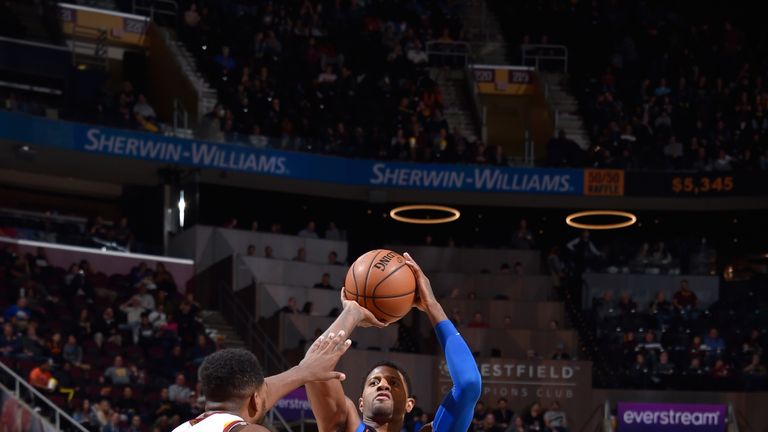 George finished with 18 points on 7-of-16 shooting, and Jerami Grant scored 12 points. The Thunder shot poorly from beyond the arc, making seven of their 27 attempted three-pointers.
With Westbrook sidelined, Oklahoma City managed just 10 assists. The Thunder hadn't had fewer than 18 assists in any game this season, and it was their fewest since December 29, 2016, when they managed just nine in a loss to Memphis.
Rookie point guard Collin Sexton scored 15 points to lead Cleveland, who dropped their fourth game in a row.
Playing without forward Kevin Love for the seventh consecutive game, the Cavaliers were also without George Hill. The starting point guard was a late scratch because of shoulder soreness. The Cavs then lost forward Cedi Osman after less than six minutes due to lower back spasms.
Detroit Pistons 103-96 Orlando Magic
The Detroit Pistons overcame two double-digit deficits to earn a 103-96 victory over the host Orlando Magic.
The result snapped a five-game losing streak for the Pistons, who had started the season 4-0 before the skid.
Andre Drummond finished with 23 points and 19 rebounds, including 19 points and 12 rebounds before half-time, to lead Detroit. Blake Griffin scored 20 points and Reggie Jackson added 15.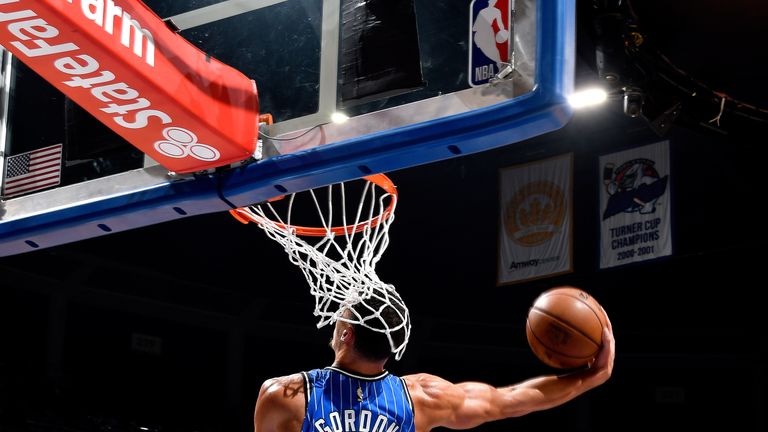 Detroit trailed 78-67 with 3:22 left in the third quarter, but the Pistons held Orlando to just one field goal over the next 10 minutes of the game and took a 92-84 lead. Orlando made a run, cutting the deficit to 94-93 with 2:52 remaining, but Detroit put the game away with seven consecutive points.
The Magic were unable to build on back-to-back wins against San Antonio and Cleveland. Evan Fournier, who hit a game-winning shot Monday night against the Cavaliers, scored 27 points Wednesday. DJ Augustin added 16 points, while Aaron Gordon and Terrence Ross had 15 points apiece.
New York Knicks 112-107 Atlanta Hawks
Guard Tim Hardaway Jr scored 34 points to lead visiting New York Knicks to a 112-107 win over the Atlanta Hawks.
Hardaway, a former Hawk, was 8-for-22 from the floor, including two three-pointers, and a career-best 16-for-20 from the line. He added three assists and three steals to help the Knicks break a two-game losing streak.
Hardaway was 10-for-12 at the line in the final three minutes to dash Atlanta's fourth-quarter comeback hopes.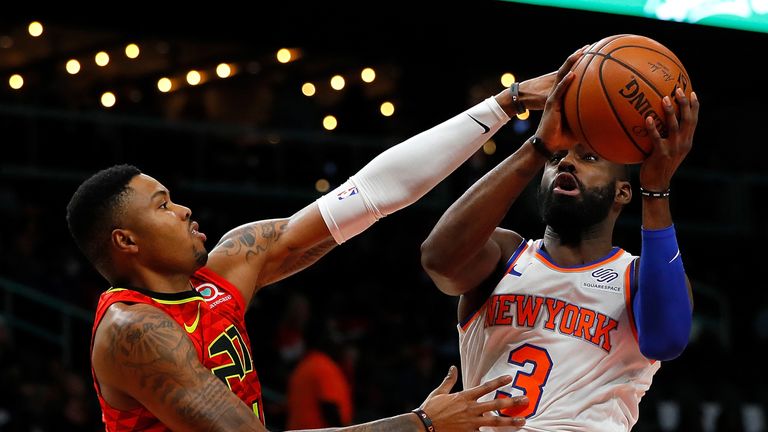 New York (4-8) also got 17 points and 11 rebounds from Enes Kanter, who scored nine of his points in the third quarter. Allonzo Trier scored 16 points and Frank Ntilikina scored 14 before fouling out.
Atlanta (3-8) was led by rookie Omari Spellman's 18 points and 10 rebounds, a career-high in both categories. Kent Bazemore added 16 points and seven rebounds and Taurean Price scored 16 points.
The Knicks did a good defensive job on Hawks point guard Trae Young, the team's leading scorer. They approached Young with some physically aggressive defense and limited the rookie to 15 points.
San Antonio Spurs 88-95 Miami Heat
Hassan Whiteside posted 29 points, 20 rebounds and nine blocks to lead the host Miami Heat to a 95-88 win over the San Antonio Spurs.
Whiteside, who missed Miami's previous game due to a knee injury, made 10-of-18 shots from the floor and fell one block short of what would have been the fifth triple-double of his career.
The Heat, who took the lead in the opening minutes of the game and never relinquished it, played without starting point guard Goran Dragic (right-knee injury) and reserve guard Dwyane Wade (personal reasons).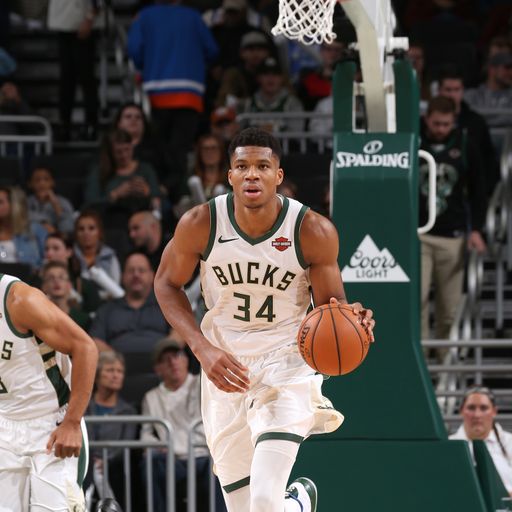 Bucks @ Clippers free live stream
Watch the Bucks take on the Clippers via our free live stream on Saturday at 8:30pm
Heat guard Wayne Ellington, who had only played 12 minutes this season prior to this game, made his first start of the season and provided 20 points. He shot 6-of-10 on three-pointers as Miami stopped a nine-game losing streak against San Antonio, beating the Spurs for the first time since January 2014.
San Antonio was led by backup point guard Patty Mills, who had 20 points, and reserve forward Davis Bertans, who added a season-high 19 points.
Spurs leading scorer DeMar DeRozan, who entered the game in the top 10 in the league in scoring (27.3), was held to 18 points. However, DeRozan contributed on the boards with a career-high 14 rebounds. San Antonio's other All-Star, LaMarcus Aldridge, was held to six points on 2-for-14 shooting.
Chicago Bulls 98-107 New Orleans Pelicans
Anthony Davis had 32 points and 15 rebounds as the New Orleans Pelicans ended a six-game losing streak with a 107-98 home victory against the Chicago Bulls.
Davis, who missed three games and struggled in three others during the losing streak because of an elbow strain, looked his old self as he added seven assists.
Jrue Holiday added 17 points, 10 rebounds and nine assists, Wesley Johnson and Julius Randle scored 12 each, Darius Miller had 11 and former Bull Nikola Mirotic had 15 rebounds and nine points.
Zach LaVine led the Bulls with 22 points, Jabari Parker had 20 points and 13 rebounds, Wendell Carter Jr. had 17 points and 11 rebounds, Justin Holiday scored 17 and Ryan Arcidiacono scored 11.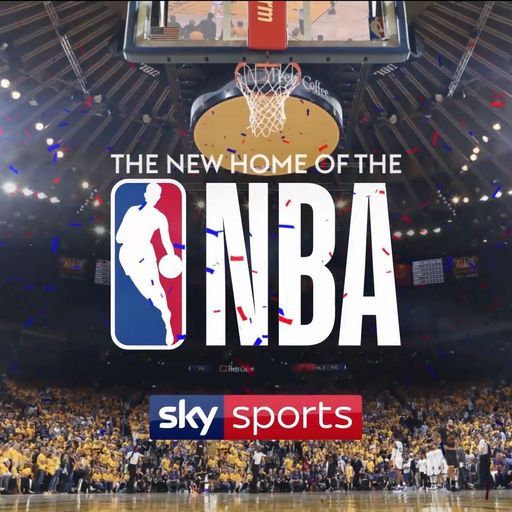 Get NBA news on your phone
Want the latest NBA news, features and highlights on your phone? Find out more
New Orleans led 58-50 at the half, and after Chicago cut the deficit to 65-59 with 8:31 to go in the third quarter Davis took over. He assisted on a Johnson three-pointer, made two free throws, assisted on a Johnson layup, then after a Jrue Holiday free throw, Davis assisted on a Holiday basket and made a dunk to complete a 12-0 run for a 77-59 lead with 5:03 to go in the quarter.
In the fourth quarter, Chicago trimmed the deficit to six points, but consecutive baskets by Jrue Holiday and Randle pushed the lead to 102-92 with 1:55 left to seal the victory.
Denver Nuggets 87-89 Memphis Grizzlies
Marc Gasol hit two tie-breaking free throws with 4.6 seconds remaining as the host Memphis Grizzlies survived two late misses by the Denver Nuggets to remain unbeaten at home with an 89-87 victory.
Gasol was fouled by Jamal Murray after the Nuggets star had tied the game at 87-all with a 21-footer with 17.8 seconds left.
Gasol then calmly made his free throws to cap a 7-for-7 night at the line.
The Nuggets had one shot at a win and a second at a tie in the final 2.4 seconds, but Nikola Jokic misfired on a 3-point attempt and Murray, after grabbing the rebound, failed to connect on a short jumper just before the final horn.
Philadelphia 76ers 100-94 Indiana Pacers
Joel Embiid had 20 points and 10 rebounds to lift the visiting Philadelphia 76ers past the Indiana Pacers 100-94.
Dario Saric scored 18 points and Ben Simmons added 16 points and 10 rebounds as the Sixers won for the first time in six tries on the road this season. The win also snapped an eight-game losing streak at Indiana.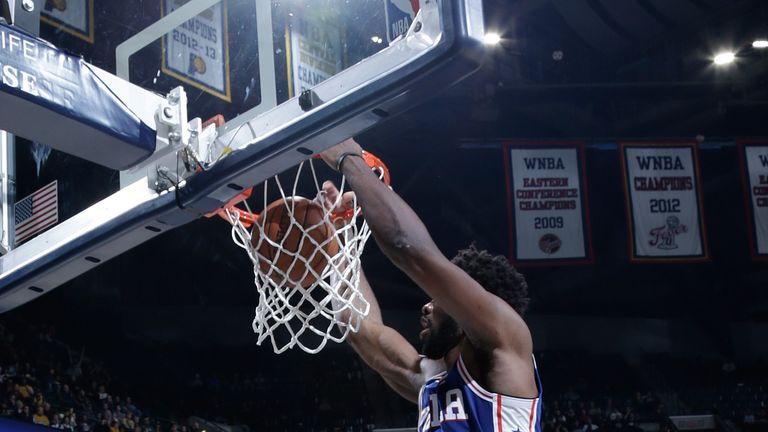 Robert Covington also scored 13 points and Landry Shamet had 12 for the Sixers.
Victor Oladipo scored a season-high 36 points to lead the Pacers. Domantas Sabonis added 16 points and 11 rebounds and Bojan Bogdanovic had 13, but the Pacers dropped their second game in a row.
Dallas Mavericks 102-117 Utah Jazz
Donovan Mitchell scored 23 points to lead six Utah players in double figures, and the Jazz defeated the Dallas Mavericks 117-102 in Salt Lake City.
The Mavericks, who were playing the second of back-to-back games, failed to build on a resounding defeat of the Washington Wizards on Tuesday, a game that ended Dallas' six-game losing streak.
The Jazz finally managed to record their first home win in five tries. They wore their retro jerseys as a tribute to the 40th anniversary of the franchise.
Alec Burks scored 18 points for Utah, and Rudy Gobert had his 10th double-double in 11 games, contributing 17 points and 10 rebounds. He shot 7-for-9 from the floor before fouling out with three minutes left. Jae Crowder scored 14 points, Derrick Favors had 13 points, and Ricky Rubio finished with 10 points and 12 assists.
Mitchell, who missed two of the previous three games because of separate ankle and hamstring injuries, had five rebounds and seven assists. He also produced a highlight-reel dunk over two Mavericks to close out the first half.
Minnesota Timberwolves 110-114 Los Angeles Lakers
Report to follow
Watch the Milwaukee Bucks take on the Los Angeles Clippers on Saturday at 8:30pm on a free live stream available on skysports.com and the Sky Sports app
Sky Sports is the new home of the NBA in the UK with live coverage throughout the week, including selected live games free to all Sky subscribers via Sky Sports Mix.
And www.skysports.com/nba will be your home for news, reports, video and features throughout the season while you can follow us @SkySportsNBA
Source: Read Full Article