Luka Doncic drained a game-winning three-pointer and scored a team-high 29 points as the Dallas Mavrericks scored a rare road win against the Minnesota Timberwolves.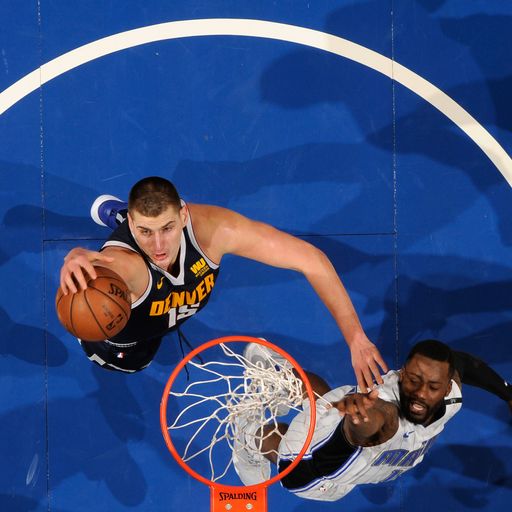 NBA Conference standings
Who's leading the East? Who's leading the West?
Dallas Mavericks 119-115 Minnesota Timberwolves
Rookie sensation Luka Doncic drained the game-winning three-pointer, scored a team-high 29 points and finished two rebounds shy of a triple-double to lead the Dallas Mavericks to a rare road win, 119-115, on Friday night to snap the Minnesota Timberwolves' three-game win streak.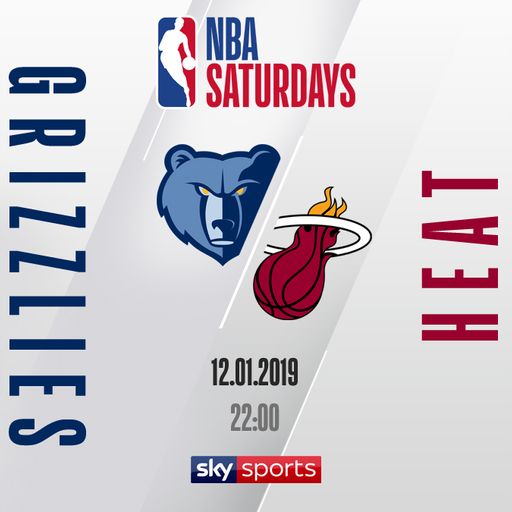 Watch Grizzlies @ Heat free on Sky Sports
Watch via free live stream on Saturday at 10pm on skysports.com or Sky Sports mobile app
Doncic, the second-leading All-Star vote-getter in the Western Conference so far, went toe to toe with the Wolves' Karl-Anthony Towns, who finished with a game-high 30 points, plus 11 rebounds and four blocks.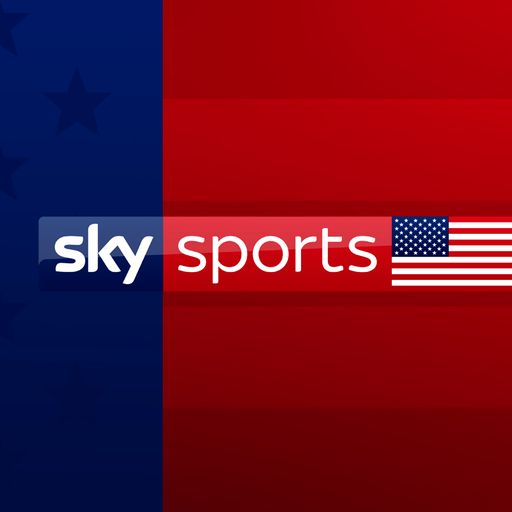 Get Sky Sports USA
Want to watch the NFL or NBA on the Sky Sports USA channel? Upgrade here
Doncic's game-winner, shot over Towns' outstretched arm, swished through with 22.9 seconds left for a 117-115 lead. It came just seconds after he threw away an inbounds pass with Minnesota leading 115-114. But the Wolves gave it right back to set up the 19-year-old's heroics.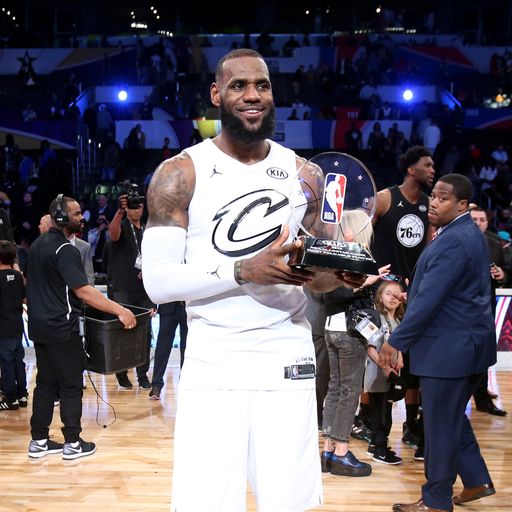 VOTE: All-Star 2019
Send your favourite players to All-Star – make your selections here
With one possession left to tie or take the lead, Wolves forward Dario Saric, 0-for-5 from the floor, passed up an open three-pointer. He threw that ball to Derrick Rose, who drove, but his pass was tipped. A scramble ensued and Towns was whistled for a foul, sending Harrison Barnes to the free throw to put the game away.
Andrew Wiggins, coming off a 40-point performance, finished with 17 points on 7-for-17 shooting. Josh Okogie had 15 points and Rose had 21 off the bench.
The Mavericks' Barnes contributed 23 points and JJ Barea had 16 points and seven assists before leaving in the fourth quarter with an injured right ankle.
Milwaukee Bucks 106-113 Washington Wizards
Bradley Beal scored 32 points and Tomas Satoransky had a triple-double as the Washington Wizards defeated the visiting Milwaukee Bucks 113-106.
Satoransky had 18 points, 12 rebounds and 10 assists for Washington, who have won two straight games and five of their last seven.
The Bucks, playing without Giannis Antetokounmpo because of a sore right quadriceps, were paced by Khris Middleton with 25 points and eight rebounds. Eric Bledsoe had 18 points, nine assists and eight rebounds and Malcolm Brogdon scored 15 for Milwaukee.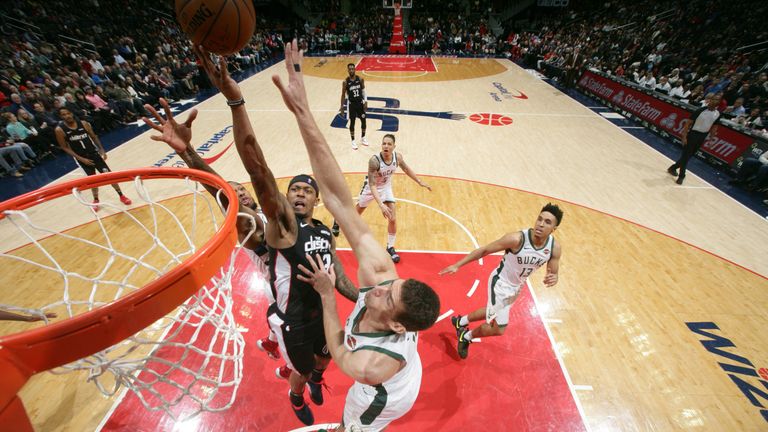 Jeff Green and Trevor Ariza scored 20 points each for Washington and combined to convert 10 of 19 three-point attempts.
The Wizards led by three to start the fourth quarter and Green's three-pointer made it 93-85 with 8:50 remaining. Beal's dunk made it 98-89, but Middleton responded with a three-pointer at 6:06. When Ariza and Green sandwiched treys around one by Milwaukee's Sterling Brown the Wizards' lead was 106-95 with 3:47 remaining.
Milwaukee cut the deficit to seven, but Ariza hit a three-pointer with 2:27 left, and the Bucks got no closer than within eight the rest of the way.
Los Angeles Lakers L-L Utah Jazz
Report to follow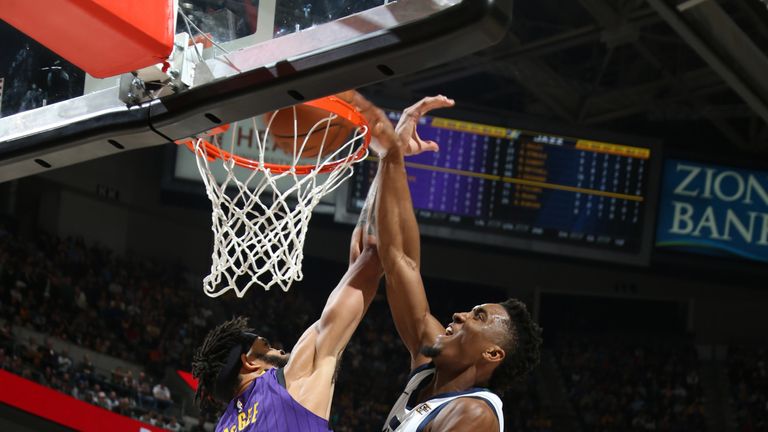 Atlanta Hawks 123-121 Philadelphia 76ers
John Collins hit the go-ahead jumper with 9.5 seconds remaining to lift the visiting Atlanta Hawks past the Philadelphia 76ers 123-121.
Kevin Huerter led the Hawks with a career-high 29 points, Collins added 25 and Dewayne Dedmon had 19. Rookie Trae Young scored 18 points.
Jimmy Butler paced the Sixers with 30 points, but he missed a pair of free throws with 2.4 seconds remaining after making his first 12. Wilson Chandler also missed a potential tying basket on a tip-in at the buzzer.
Ben Simmons recorded his seventh triple-double of the season with 23 points, 15 assists and 10 rebounds. JJ Redick also scored 20 points. The Sixers played without All-Star center Joel Embiid, who tried to warm up with a sore left ankle but couldn't compete.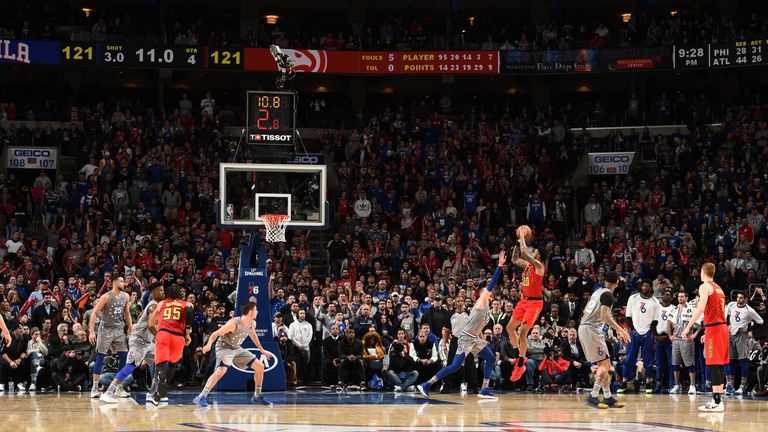 Mike Muscala knocked down a three-pointer, his fourth of the game, to even the game at 116-116 with 3:20 remaining. Butler's tough lay-up with 1:16 left put the Sixers back ahead 121-118.
But Huerter came right back and hit a deep three-pointer to tie the game at 121 with 53.6 seconds left, ultimately setting up Collins for his heroics.
Brooklyn Nets 105-122 Toronto Raptors
Kawhi Leonard scored 20 points and nabbed 11 rebounds as the Toronto Raptors defeated the visiting Brooklyn Nets 122-105.
Leonard has scored at least 20 points in a career-best 18 straight games for the Raptors, who have won a season-best seven consecutive home games.
In stretching their overall winning streak to four, the Raptors avenged a 106-105 overtime loss to the Nets in Brooklyn on December 7.
Pascal Siakam added 16 points for the Raptors, Serge Ibaka had 14 points and nine rebounds, Norman Powell and OG Anunoby each scored 13 off the bench,
D'Angelo Russell scored 24 points with six rebounds and nine assists for Brooklyn, Shabazz Napier added 15 points and Jarrett Allen had nine points and 12 rebounds.
The Raptors led by 24 points after three quarters and by 26 early in the fourth quarter. The Nets cut that lead to 12 with 4:56 remaining on Napier's lay-up capping a 14-0 run but could get no closer.
Cleveland Cavaliers 113-141 Houston Rockets
James Harden posted his fourth 40-point triple-double on the season as the host Houston Rockets turned an early run into a 141-113 win over the Cleveland Cavaliers at Toyota Center.
Harden finished with 43 points, 10 rebounds and 12 assists despite sitting out the fourth quarter. His 13th 40-point game this season set a franchise record and Harden nabbed his 10th rebound with 1:22 left in the third, corralling a three-point miss by Cleveland forward Jalen Jones.
Harden converted all 11 of his free throws. All 10 of his rebounds came on the defensive end.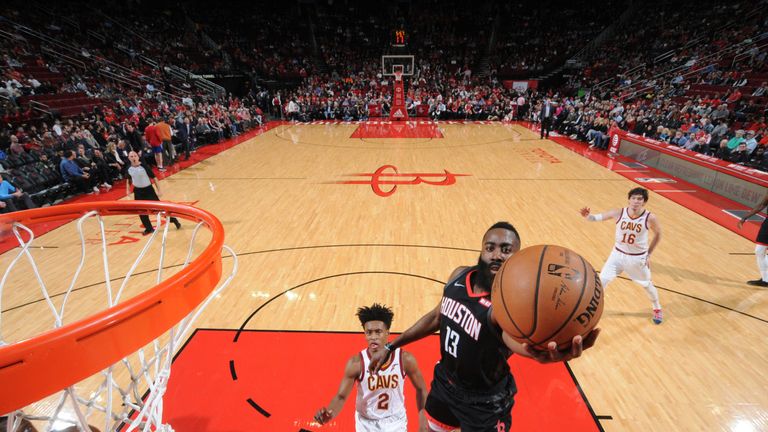 The Rockets overwhelmed the hapless Cavaliers from behind the arc, drilling 16-of-37 threes while carrying a 113-81 lead into the final period. Harden was 8-of-16 from deep.
Rockets center Clint Capela had 19 points, four rebounds and two blocked shots in 30 minutes.
Cedi Osman paced Cleveland's starters with 15 points while the backcourt of Alec Burks and Collin Sexton totalled 27 points, 10 rebounds and nine assists as the Cavaliers suffered their 12th consecutive loss.
Indiana Pacers 121-106 New York Knicks
Domantas Sabonis collected 22 points and 15 rebounds as the Indiana Pacers ended a season-high five-game road trip with a 121-106 victory over the New York Knicks.
The Pacers finished the trip 3-2 and won for the 15th time in 19 games by leading for the final 28 minutes. Indiana shot 52.1 per cent, improved to 16-2 when making at least half of their shots and 24-4 against opponents with losing records.
Playing without starting center Myles Turner for a fourth straight game due to a sore right shoulder, the Pacers rebounded nicely from a 135-108 loss at Boston on Wednesday.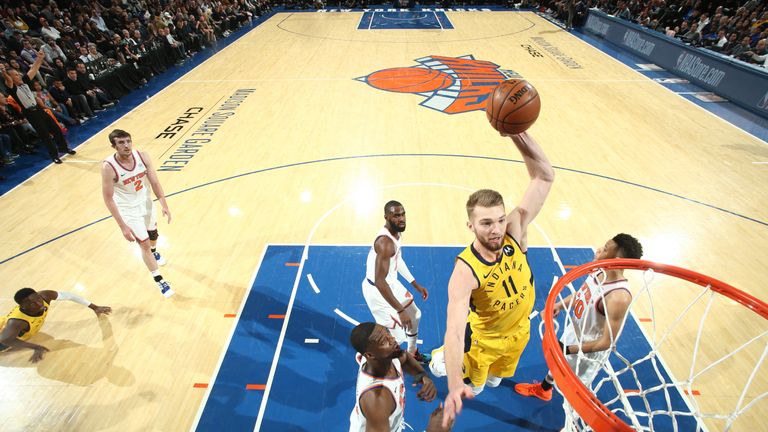 Sabonis started for Turner and shot 9-of-14 from the field. He recorded his team-leading 19th double-double as the Pacers outrebounded New York 47-37. Victor Oladipo added 19 points as the Pacers beat the Knicks for the 13th time in the last 14 meetings.
Bojan Bogdanovic contributed 15 points while Thaddeus Young chipped in 13, six boards and four steals.
New York's Emmanuel Mudiay scored all of his 21 points in the second half as the Knicks returned home from a 1-5 road trip and lost for the 16th time in 18 games since December 1. Reserve Damyean Dotson added 15 while rookie Kevin Knox finished with 14.
Charlotte Hornets L-L Portland Trail Blazers
Report to follow
Chicago Bulls L-L Golden State Warriors
Report to follow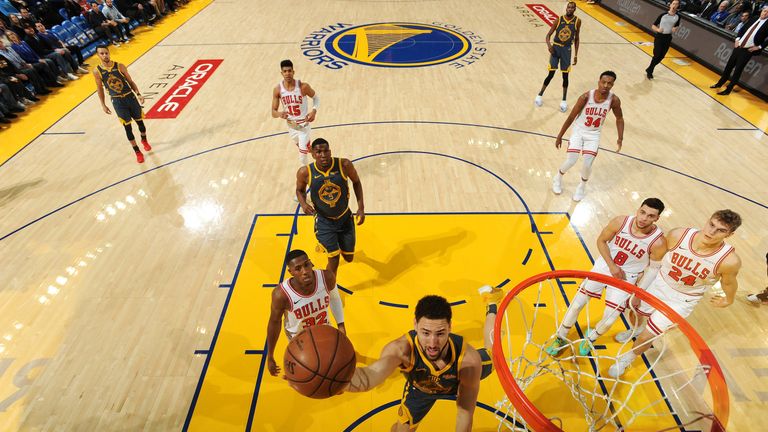 Want to watch the NFL or NBA on the Sky Sports USA channel but don't have Sky Sports? Get the Sky Sports Action and Arena pack, click here.
Source: Read Full Article