Jimmy Butler made five three-pointers in the fourth quarter and scored 32 points to lead the Minnesota Timberwolves to a 124-120 win against the Los Angeles Lakers in Minneapolis.
Game leaders
Los Angeles Lakers
Points: LeBron James – 29
Assists: LeBron James – 8
Rebounds: LeBron James – 10
Minnesota Timberwolves
Points: Jimmy Butler – 32
Assists: Derrick Rose – 7
Rebounds: Karl-Anthony Towns – 16
Karl-Anthony Towns had 25 points, 16 rebounds and four blocks, and rookie guard Josh Okogie scored a season-high 17 points for Minnesota.
LeBron James had 29 points, 10 rebounds and seven assists for the Lakers.
Brandon Ingram returned from a four-game suspension and scored 17 of his 24 points in the first half for Los Angeles, and Kyle Kuzma scored 16 of his 19 in the first half.
JaVale McGee added 13 points and Rajon Rondo had 13 points and eight assists off the bench for the Lakers.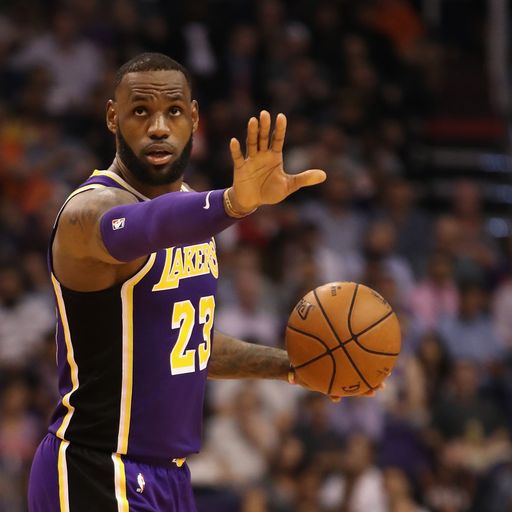 NBA alerts on your phone!
Receive the latest NBA news, top plays & features with the Sky Sports app – find out more
Towns gave the Timberwolves their biggest lead of the game at 119-109 when he sank a three-pointer with 4:56 left to cap a 14-2 run.
The Lakers answered with an 8-0 run, but Taj Gibson blocked Kuzma's three-point attempt with 39 seconds remaining, and Butler made his final 3-pointer of the fourth with 19.7 seconds left to make it 122-117.
The Lakers took their biggest lead at 90-85 on a three-pointer by Lance Stephenson with 3:28 left in the third quarter and maintained a 94-93 advantage entering the fourth.
The Timberwolves took their biggest lead through the first three quarters at 21-13 on two free throws by Jeff Teague with 6:47 left in the first quarter.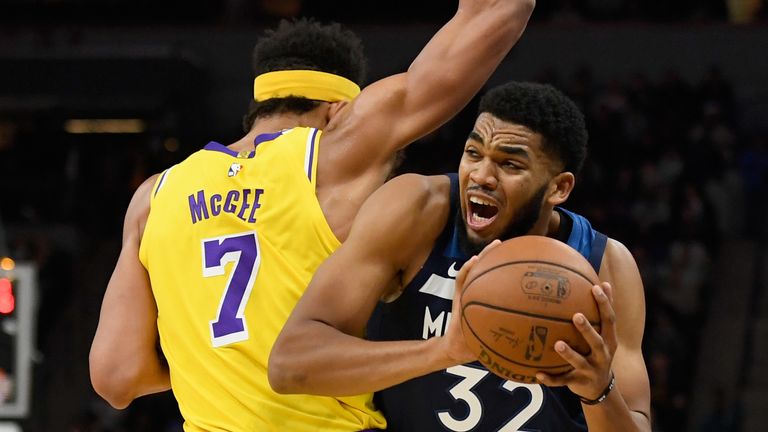 Towns was whistled for his second foul about a minute later and sat out until the start of the second quarter, when Minnesota maintained a 36-32 advantage.
The Lakers scored the final five points of the first half to take 66-64 lead into the break.
James scored 10 points in the second quarter after going scoreless in the opening 12 minutes.
Minnesota small forward Andrew Wiggins, third on the team in scoring last season at 17.7 points per game, missed his third consecutive game due to a quad injury.
Monday night's results
Sky Sports is the new home of the NBA in the UK with live coverage throughout the week, including selected live games free to all Sky subscribers via Sky Sports Mix.
And www.skysports.com/nba will be your home for news, reports, video and features throughout the season while you can follow us @SkySportsNBA
Source: Read Full Article