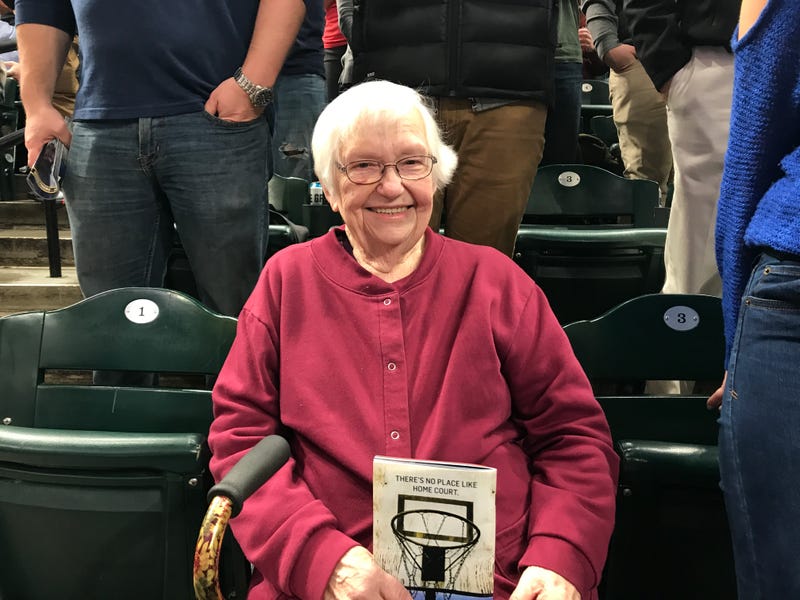 BLOOMINGTON, Ind. — Iris Clawson, 84-year-old NBA superfan, spent some time on the trainer's table.
A couple weeks back, she stayed up late to watch the Warriors, a hassle familiar to every fan east of the Rockies. After the game she went to the bathroom, but as she stood up she slipped and slammed her head against a cabinet. "Blood just ran everyplace," she says. "All over my gown. All over the floor." She pushed the Life Protect 24/7 button she wears around her neck, which sent an ambulance to her house; she didn't get home from the hospital until 4 a.m. I live a couple houses down from Iris, and when I saw her several days later she had seven stitches, two black eyes, and conspicuously yellow bruising. But she didn't have any regrets, other than waking other people up. "It was just one of those accidents," she says. "I won't go to bed on the Warriors."

BLOOMINGTON, Ind. — Iris Clawson, who turns 85 this year, loves at least three things in life:…
The rest of Iris's fandom has been trending up this season. The reception of my Deadspin story about her had her absolutely shocked. "I just can't believe it," she says. "I didn't think anyone would read it." When it ran in July I showed her some comments and reactions on social media, and she now has a favorite tweet, even if she's still not clear what a tweet is.
Iris was even more excited by readers who reached out to her directly. She received some sweet letters and even some Reggie Miller basketball cards in the mail. (The Pacers remain her co-favorite team—Hoosier pride, after all—even if they're not quite as fun to watch as Golden State.)
Advertisement
Mike Breen, whose mother is an octogenarian hoops junkie herself, promised to call. On the day he was scheduled to call she carried her cordless phone all over the house—she hated the idea of someone that important having to call twice. But Breen talked her ear off, explaining that, no, Klay Thompson wasn't married, but he was very nice and had a dog. "We had a nice little chat," Iris says. "He asked me if I liked the announcers, and I said I don't really pay close attention to them. He got a good chuckle out of that."
One reader, a former FreeDarko scribe, bought Iris a big-screen TV. She says it's been wonderful, especially since her latest eye procedure hasn't helped like she hoped. "It's not really been what it should be," she says, and she struggles more than ever to read smaller text. Thanks to that new TV, though, she can now see a game's score without having to grab her cane and push up from the recliner. When I set the TV up for her, late in the summer, basketball still hadn't come back. "Let's try the guide channel," she said, and when its columns of tiny type popped up she squealed. "I can read! I can read!"
Another reader, a lawyer from Texas, said he wanted to buy Iris some Pacers tickets. When I got that email I headed straight to her house, pulled up the Pacers schedule on my phone, and started babbling about the Warriors' coming to Indianapolis on January 28. "Are you dumb?" she said. "You have a baby coming on the 25th."
Advertisement
(This is true.)
Between the due date and Iris's skepticism about traveling in a hypothetical blizzard, we opted to go to this week's Rockets-Pacers game instead. It figured to be a good matchup, and Iris was excited to finally see James Harden in person. As she told me for the original story "Harden is a good player, but I wish he would trim his beard. I don't mind a beard, but it doesn't need to be that long."
The generous reader sprang for amazing tickets—center court, tenth row. Iris has been going to Pacers games since they played in the State Fair Coliseum, though it's been a few years since her last one. She's never had seats like that. "I've never even sat in the lower section," she said during our drive to Indianapolis.
Advertisement
It was a terrific game, and Iris loved the view. "I just looked at everything," she says. The Pacers' game-day staff was doting and kind, meeting us at the entrance with a wheelchair and helping us again when Iris needed to use the bathroom at halftime. One thing I hadn't anticipated was how hard it would be for Iris to stand up each time someone in our row wanted nachos or a beer. As the game progressed her knees grew stiff; she moved slower and slower, and I caught her grimacing a few times. She never grumbled about it, but I do feel professionally obligated to report that, for the first time in the two years I've known her, I heard Iris complain. It centered on the music and marketing and contrived chanting that pounded us during every stoppage of play. "I didn't care for that," she says. Amen, Iris.
Iris was sad the Rockets won, 98-94, but she was also thrilled to see Victor Oladipo and another favorite of hers, Domantas Sabonis, up close. The game stayed close until the end, with Harden and Oladipo trading buckets. During the last couple minutes it felt like everyone in the arena was standing and screaming. Not Iris, though. "I was afraid if I stood very long I'd get wobbly," she says. She couldn't see the court over the other fans, so she leaned back and caught the final plays on the Jumbotron. I found myself watching her instead of the action. She had a big smile and not even a flicker of annoyance, and she pumped her fist with every Pacers score.
On the drive back to Bloomington, I pressed Iris for her freshest NBA takes.
What about Kevin Durant's future? "I don't think he'll go to New York."
Have the Pacers been hurt by losing Lance Stephenson? "Nope."
What about Myles Turner's big extension? "I don't think he's worth that amount. But I'm glad he's getting the money. The players earn it."
Advertisement
Is she surprised Ty Lue lost his job as Cavs head coach? "I don't think he coached much to begin with."
What about Kawhi in Toronto? First, she thinks everybody should slow down for a second and reflect on the end of the Duncan-Parker-Ginobili-Leonard era. "I still can't believe all of those guys are gone."
Can Steph win another MVP? Iris seems pretty optimistic about that, just like she does about everything else: "He's got a couple more good years left in him." Amen, Iris.
Source: Read Full Article