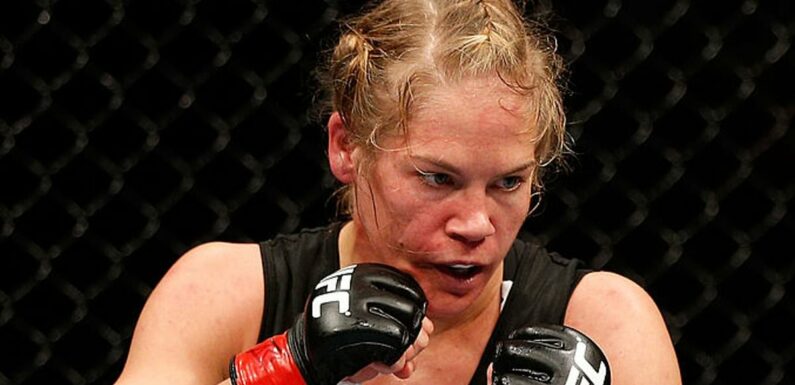 Ex-UFC fighter Julie Kedzie pledges to donate her brain for CTE research after suffering concussion-related symptoms since retirement… with the degenerative and fatal disease only able to be diagnosed post-mortem
Julie Kedzie has pledged to donate her brain for post-mortem research
She has displayed symptoms of the fatal brain disease CTE over the past decade
Joshua and Wilder fight on same night – but not each other! Listen to The Hook
Former UFC fighter Julie Kedzie has revealed that she plans to donate her brain for post-mortem research.
Kedzie, 42, had 29 professional MMA bouts, with her final two coming with the UFC as she finished her career in 2013 with a record of 16 wins and 13 losses.
In the decade since, she has openly admitted to suffering with depression, anxiety, hyperactivity, impulsiveness and lack of sleep, which are all symptoms of the fatal brain disease chronic traumatic encephalopathy (CTE).
The condition has been linked with concussions and taking repeated blows to the head. It can develop into dementia in later life, but can only be diagnosed post-mortem. With this in mind, Kedzie has pledged to donate her brain after she dies so that it can be studied, and hopes the research can help other women in combat sports in the future.
'It seems a very normal thing to do," Kedzie told BBC Sport.
EX-UFC fighter Julie Kedzie (pictured) has vowed to donate her brain for post-mortem research
Kedzie (right) has suffered from concussion-related symptoms over the past decade since retiring from MMA
She hopes the CTE research can help women in combat sports moving forward
'I've been hit in the head a lot so we might as well see what is in there and get some good out of it for data.
'If there is a way that I can still keep pushing in this field [of mixed martial arts] and advancing the cause of women, then yeah.'
What is CTE?
Chronic traumatic encephalopathy (CTE) is a brain condition thought to be linked to repeated head injuries and blows to the head. It slowly gets worse over time and leads to dementia, but the right help and support can manage the symptoms.
Early symptoms include: Mood changes, such as depression or suicidal thoughts
Personality changes
Behaviour changes, such as aggression and mood swings
Later symptoms include: Short-term memory loss
Confusion, such as getting lost or not knowing what time of day it is
Difficulties with planning and organisation
Problems with movement
Source: NHS website 
There has been an increase in donations of brains to the Concussion Legacy Foundation (CLF) from athletes in recent years, although the majority of research into brain conditions has been carried out on male brains.
Indeed, Australian Rules footballer Heather Anderson, who took her own life at the age of 28 in 2022, was the first female to be diagnosed with CTE earlier this year.
This indicates that far more research needs to be done on female brains which has helped drive Kedzie's decision.
'I want to give back to the women in this sport because there are all these studies on male athletes' brains and there might be something completely different from a female athlete's perspective,' she added.
Meanwhile, Dr Chris Nowinski, a former wrestler who co-founded CLF and has a PHD in neuroscience, has called for more women to come forward like Kedzie.
'Heather Anderson is not going to be the only woman with CTE and I hope we start changing what we do sooner rather than later,' he said.
'Women obviously need to lead this change. We need to start having these conversations, telling what we know and what we've learned from men.
'Maybe that will give us a faster cultural change than we've had with men's sports.'
Kedzie has spent 10 years away from the UFC, but is still passionate about MMA, and wants to ensure that more research leads to improved fighter safety moving forward.
'I love this sport so much and I want it to be better," Kedzie said.
'If you stay in this sport long enough you are going to suffer. Athletes have to be protected.'
Source: Read Full Article