Jockey Linda Meech says she hopes Thought Of That gets beaten in Saturday's VRC Derby after she was dumped by owner Brae Sokolski in favour of Mark Zahra.
Meech, who rode the first winner on Wednesday at Bendigo, said "it's a little disappointing" to find out she wouldn't be riding in the group 1 after piloting Thought Of That to victory at his two most recent outings.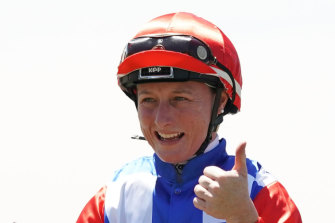 Linda Meech salutes in the first on Bendigo Cup day.Credit:AAP
"Of course things like that bother you and I've had 20 years in this racing game – Brae probably hasn't been there quite as long but I won't let Brae get to me," she told Racing.com.
"It's a little bit disappointing. I know he wanted a group 1 jockey but Mark Zahra's had 262 rides in group 1s and I've had 23 for one winner and he's had 15 [winners]."
"If you're any good at maths, you'll work out he's probably had a lot more opportunities but his strike rate is pretty bad, same as mine.
"Brae is a smart enough bloke to stick with the big guns but I hope it gets beat."
Earlier on Wednesday, Melbourne Cup-winning jockey Michelle Payne was fined $1000 for calling Sokolski a "pig" on Twitter for replacing a woman jockey with a man.
But Sokolski said implications by Payne that he had dumped Meech because of her gender were off the mark.
"Not even a skerrick of the decision had anything to do with gender," he told RSN radio.
"The decision was made purely on the merits of the race.
"You're entitled to an opinion on an owner's decision regarding a jockey engagement, I've got no issue with that.
"You are not entitled to challenge the right of an owner to make that decision.
"You're most certainly not entitled to accuse or even imply insidious motives for that decision, without any evidence whatsoever, and you're sure as hell not entitled to defame and personally abuse an owner for a decision."
Source: Read Full Article