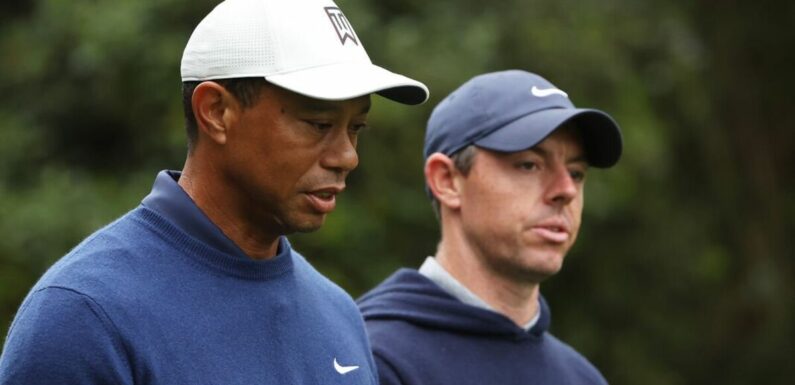 A power system failure at the SoFi Center in Palm Beach Gardens resulted in the roof collapsing, potentially delaying the January commencement of Rory McIlroy and Tiger Woods TGL golf venture.
The venue was chosen for the upcoming digital golf league, which is set to launch on Jan. 9, 2024. However, the venue's construction may face delays due to the roof deflation and damages sustained to the facility.
Despite being scheduled to be completed in January, the circumstances could affect the timeline for finishing the venue. A statement from TMRW Sports, founded by Woods, McIlory, and their business partner Mike McCarley, read: "The dome section has been further deflated by our crew and will remain down while they work to remedy the situation."
Additionally, it has been reported that no injuries occurred at the venue when the roof deflated. The statement further indicated that all the technology slated for use in televised matches for TGL remained undamaged despite the collapse.
Don't miss…
Rory McIlory makes surprising US snub with hint about future after golf[LATEST]
Tiger Woods peppered Rory McIlroy with missed calls after Ryder Cup caddie clash[LATEST]
Rory McIlroy slams 'd***' Patrick Cantlay after opening up on Ryder Cup bust-up[LATEST]
According to a TGL representative, as reported by Sports Illustrated, the current plan is to maintain the existing schedule. Construction workers will persist in their efforts around the dome, intentionally left deflated to mitigate any potential additional damage.
The venue will cover an area of almost 250,000 square feet and have seating for around 2,000 fans during match nights. It features a massive screen measuring 64 feet in height and 46 feet in width, much larger than the regular simulator screens found at consumer places like Top Golf. The green area will comprise a 3,800-square-foot putting surface, three sand bunkers, and three adaptable greens.
The dome spans around 250,000 square feet and facilitates an oversized simulator featuring a 46-by-64-foot screen. This setup allows players to hit shots and incorporates elements such as greens and bunkers.
Support fearless journalism
Read The Daily Express online, advert free
Get super-fast page loading
TGL is a team-based game consisting of six teams, each composed of three PGA Tour players who compete in an 18-hole match on a virtual course. The league has seen a number of celebrity investors and team owners, with Alexis Ohanian, Venus Williams, and Serena Williams owning the Los Angeles Golf Club.
Fenway Sports Group owns the Boston Common Golf team, and Arthur Blank owns the Atlanta Drive GC. Seven Cohen, which owns TGL New York and TGL San Francisco, is co-owned by Marc Lasry and NBA Champion Stephen Curry.
The league is structured around a 15-hole format known as modern match play, featuring nine holes of Triples [three vs. three alternate shots] followed by six holes of Singles head-to-head play. Points are awarded per hole, with each hole worth one point, and the team with the fewest shots on a hole securing the point.
The team with the highest overall point tally wins the match in TGL. The league follows a points-based system similar to professional hockey for regular-season matches.
Teams can earn up to two points for their regular-season total, depending on whether they win in regulation or overtime. If a team loses in overtime, they get one point, and no points are awarded for losing in regulation.
Source: Read Full Article