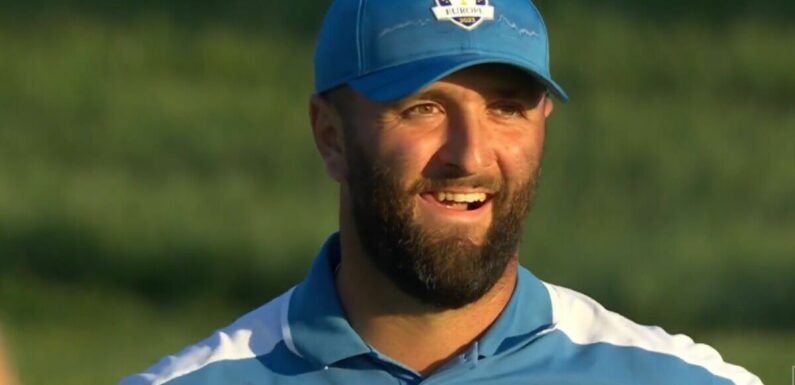 Ryder Cup diary: Europe dominate day one
Europe's Jon Rahm sunk an audacious eagle putt to tie his four-ball match alongside Nicolai Hojgaard on the opening day of the Ryder Cup on Friday. And the 28-year-old looked mildly embarrassed after the ball had gone into the hole due to the magnitude of his effort.
Europe were in imperious form on the opening day of the tournament and stormed into a 4-0 lead after winning all four of their foursomes matches. USA improved in the four-ball session as they looked to get back into the contest and appeared to be on course for their first match victory as Brooks Koepka and Scottie Scheffler led Rahm and Hojgaard going into the 18th hole of their showdown.
The European duo managed to get onto the green from the 18th tee, with Rahm presented with a 30 foot eagle putt. And, incredibly, the Spaniard made the putt to win the hole and secure a tie. Rahm appeared stunned as the ball dropped in and froze in disbelief before putting his hand up to his face. He then shook his head and took his cap off as his team-mates celebrated at the side.
America were able to secure three ties in the four-ball session as they illustrated their desire to keep the contest alive. But they still have plenty to do on the second day of the tournament, with the first day ending with Europe leading 6 ½-1 ½.
Read more… Ryder Cup star Brooks Koepka made quit admission in teary LIV Golf interview
Create an account or sign in to get access to this exclusive content
Tensions were high on day one at the Marco Simone Golf & Country Club in Rome as USA struggled to stifle the hosts. And Koepka even branded Rahm a "child" for his behaviour on the course.
"I mean, I think me and Scottie birdied, what did we say, 14, we birdied 14, 15, 16, 17, 18, and then lost by two," Koepka explained after the tied match. "So yeah. I mean, I want to hit a board and pout just like Jon Rahm did. But, you know, it is what it is. Act like a child. But we're adults. We move on."
We use your sign-up to provide content in ways you've consented to and to improve our understanding of you. This may include adverts from us and 3rd parties based on our understanding. You can unsubscribe at any time. More info
Don't miss…
Golf fans just realising how Ryder Cup got its name as USA and Europe collide[INSIGHT]
Ryder Cup ace Viktor Hovland rubs salt into USA wounds by 'losing your s***'[REACTION]
Sky Sports forced to apologise for Ryder Cup coverage as European ace left angry[DETAILS]
However, Europe captain Luke Donald leapt to Rahm's defence. "I didn't see any of that," Donald said. "Jon was a big support system for Nicolai, to hit a drive like that on 18 and make an eagle for a half, he's a passionate person, I didn't see him acting any other way."
Europe's dominance means they are already big favourites to win the showdown in Italy. But USA will be doing all they can to turn the tide when play resumes on Saturday.
Source: Read Full Article