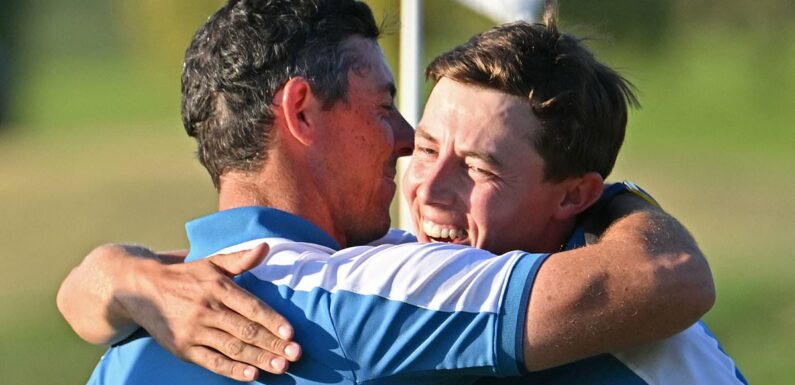 Ryder Cup 2023: Matt Fitzpatrick pays tribute to Rory McIlroy after the Northern Irishman helps his Team Europe partner overcome his previous struggles: 'He's a dream to play with'
McIlroy won both his games on the first day of the Ryder Cup on Friday in Rome
Fitzpatrick went into the day with a 0-5 record form his previous to appearances
Mail Sport's new WhatsApp Channel: Get the breaking news and exclusives here
First trick from Rory McIlroy in his day's work was toppling a foursomes pairing who had previously gone 5-0 in the format.
Second trick, after a quick bite of lunch, was to help transform a former Ryder Cup struggler – Matt Fitzpatrick – into some turbocharged version of Ian Poulter and secure a second win as the shadows grew long at the Marco Simone Club.
The Northern Irishman had put his points where his mouth had been earlier this week. His acerbic comments about the absence of big beasts Poulter, Lee Westwood and Sergio Garcia required that he stepped up, and deliver he did.
With the LIV crew out of the picture, Fitzpatrick took his cue from his partner in the afternoon Fourballs and went on a front nine tear that saw him make four birdies and an eagle in five holes.
'Can he play with Rory every week, Gerry?' joked one of the Yorkshireman's entourage to McIlroy's father during the joyful sequence as Collin Morikawa and Xander Schauffele were put to the sword five and three.
Rory McIlroy led the Team Europe charge on day one of the Ryder Cup, winning both his games
He partnered with Matt Fitzpatrick (right) in the afternoon to defeat Collin Morikawa and Zander Schauffele in the Fourballs
Fitzpatrick paid tribute to his team-mate, saying he is a 'dream' to play with on the course
Fitzpatrick, who had come in with a 0-5 record in his two previous Cup appearances, had entered that sainted zone where he could not miss with his putter. Their aggregate score of 27 around the front nine would have been impossible for anyone to live with, and briefly they threatened the record Ryder Cup winning margin of seven and five notched by Lee Trevino and Jerry Pate in 1981.
'For the first nine holes I was trying to hang on to this man's coat tails,' commented McIlroy. 'I said to him walking up the tenth, "At least I contributed twice."
'This was his first point for Europe, and I'm happy that I was the one to get it with him – proud of him and how I played.'
The double shift had been a considerable physical effort from McIlroy, given the heat and this course's steep undulations, plus the pressure of his elevated status as a leader.
Fitzpatrick shone on Friday after going into the event with a 0-5 record in his previous two appearances
'Playing alongside Rory you feel that even if you hit a bad shot he is going to save you,' said Fitzpatrick. 'There is more confidence and the freedom to hit better shots.'
McIlroy alongside Tommy Fleetwood against Schauffele and Patrick Cantlay had been the most hard-fought game of the morning foursomes wipeout. You would not have expected less against a US pairing who had never lost together in team events and, of the many blows Zach Johnson's men suffered, this was among the most telling.
The Americans refused to go away and were within hole of them with two to play. McIlory stepped up to the tee and on the 188-yard 17th nailed it to within three feet to give his grateful partner a tap in.
Fleetwood used galactic terminology to sum up the experience: 'Without being cheesy, I think it's a dream to play with Rory McIlroy in front of so many people on the planet. Going out there with him in a Ryder Cup is very, very cool.'
Source: Read Full Article