Tim Tszyu, with Jeff Horn sitting ringside, disposed of the next best welterweight in Australia.
In handing Dwight Ricthie just his second professional defeat, Tszyu has earned himself the WBO Global and IBF Pan Pacific super welterweight belts and a potential top-five ranking. More importantly, he keeps intact his undefeated record and remains on course for a blockbuster clash with fellow Australian Horn.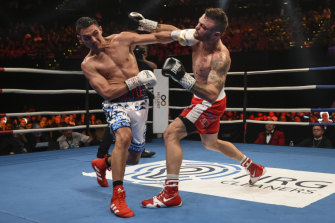 Tim Tszyu defeated Dwight Ritchie in front of a packed house at the ICC on Wednesday night.Credit:Wolter Peeters
In front of a packed house and a large pay-per-view audience, Tszyu landed the heavier blows in a brutal battle that went the distance. The judges scored it 98-93, 98-92, 97-93.
The focus will now shift to Horn, when he fights another top local, Michael Zerafa, in Bendigo on August 31. If Horn wins, the pair will have cleaned up the local scene and have no one but each other to fight domestically.
"He's here, he's got a big task ahead of him," Tszyu said. "If he finishes his task, we can talk."
Ritchie was no pushover. 'The Fighting Cowboy' was badly cut in the third round, the wound big enough to halt proceedings, at least temporarily. The ringside doctor opted to let them go on. Now that he had a target, Tszyu hit it repeatedly.
Each of Tszyu's opponents has been a gradual step up in class. Ritchie was another level again, defeated just once in 19 bouts. Ritchie has spent 182 rounds in the ring as a professional before Wednesday night, Tszyu just 52. It speaks as much to the disparity in power as it does experience. When they traded blows, Tszyu's carried the sharper sting.
Ritchie, however, refused to buckle. His is a life that could have gone off the rails had it not been for boxing. He fought and beat cancer, twice, before he even reached his terrible twos. He ensured this went the entire 10 rounds. There is a reason he is ranked the IBF World No.9.
"It was a hell of an experience, Dwight is a great opponent," Tszyu said.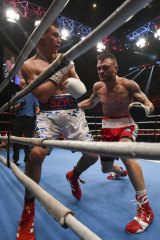 'The Fighting Cowboy' Ritchie kept Tszyu on his toes.Credit:Wolter Peeters
"He kept me on my toes. It's something I can learn from and I can only get better."
They say styles make fights and this made the match up all the more intriguing. Tszyu came forward, looking to force the issue. Ritchie looked to counter, looking for openings when the favourite became careless. Joel Camelliri, who went the distance with both fighters in the past 12 months, predicted Tszyu would win on points. And so it proved.
Ritchie landed a pre-fight blow, some would suggest a low one, when he described Tszyu as a "home brand version" of his father. Any comparison between the two is premature. Tszyu senior was a multiple world champion, a hall of famer with granite in his gloves. Tszyu 2.0 need only achieve just a fraction of the original, he will have a career he can look back on fondly.
The 'home brand' sledge aside, there had been a distinct lack of animosity leading up to the fight. Tszyu's mother, Natlalia, even introduced herself to Ritchie after the weigh-in and wished him all the best. After a timid opening round from both fighters, they dispensed with the niceties.
Tszyu's timing has been as good outside the ring as in it. With Anthony Mundine on the way out, he is the young bull the local fight scene needed. He carries his father's name but has become a drawcard in his own right. He has outgrown his previous venues, the Hordern Pavilion and The Star, prompting the move to the larger First State Theatre. He gave the fans a good show.
This was a large and eclectic crowd. It featured Labor leader Anthony Albanese, chef Matt Moran, UFC champion Robert Whittaker, Swans star Isaac Heeney and, seemingly, a large portion of the NRL. Sam Burgess, Cody Walker, Damien Cook, Braidon Burns, Adam Reynolds, Junior Paulo, Josh Hoffman and Will Smith were just some of the leaguies among the throng.
Source: Read Full Article