Melbourne Boomers star Cayla George sealed victory over Townsville Fire in her 250th WNBL game on Sunday.
The undefeated Boomers flew up to Townsville after notching a big win over reigning champions Canberra Capitals on Friday night, and it was George (10 points, seven rebounds) and WNBA import Lindsay Allen (28 points, five assists) who helped their side secure an 83-71 victory in the final minutes.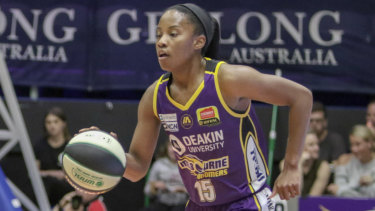 WNBA import Lindsay Allen was in top form again for the Boomers, shown here in action against Canberra on Friday night.Credit:Michael Peacock
Allen scored a three and a lay-up late in the action to keep the Boomers ahead of the fast-finishing Fire, who trailed by 12 points earlier in the game.
The Boomers led 74-71 with 32.5 seconds left, and despite a missed shot from Maddie Garrick, regained the ball after the Fire fouled centre Ezi Magbegor (13 points) as she chased the rebound.
On the next play George was left with a three-point shot from the left sideline and she nailed it to assure her side of a win.
''We've had a tough weekend, with a home game in Geelong on Friday before travelling up here,'' George told Fox Sports after the game.
Boomer Cayla George.Credit:Mick Connolly
''But it was a special game for me, my family came to watch and while the win wasn't pretty we will always take it.''
Melbourne's outside shooting was on song on Friday and they continued to knock them down yesterday, shooting 11 of 18 from the three-point line.
The Boomers and the Southside Flyers are now both 4-0 after three rounds.
The Flyers remain undefeated after an 85-77 win over Bendigo Spirit in Traralgon on Saturday night.
Flyers forward Sara Blicsavs (23 points) and WNBA import Mercedes Russell (18 points, 11 rebounds) led their side past the Spirit despite a late fightback which saw Bendigo win the last term by 10 points.
The Flyers face Bendigo against next Sunday, in a 5pm tip-off at Dandenong Stadium, before the Flyers and Boomers play at the State Basketball Centre on Melbourne Cup Eve at 7.30pm.
Source: Read Full Article