Boomers veteran Andrew Bogut starred against Team USA on Saturday.Credit:AAP
Australian Boomers star Andrew Bogut has urged his side to embrace the feeling of beating Team USA, but not forget the goal of winning a medal at the FIBA World Cup.
The Boomers' 98-94 win over the USA at Marvel Stadium on Saturday was the first by a senior men's team over the USA and comes just over a week before the World Cup begins in China, where the Australia will chase their first senior medal.
The Boomers face a group of death in China, meeting Canada, Senegal and Lithuania and needing to finish in the top two to make the second round.
Bogut said playing the USA in Melbourne was something he never imagined, let alone beating them in front of 52,079 fans.
"To win a game against USA in my home city is something I wouldn't think was realistic as a kid," Bogut said.
"Thinking USA would come to Melbourne is one thing, to beat them is whole other ball game.
"It's definitely up there but we need to make sure we enjoy this moment tonight and tomorrow then get on a plane to China and get back to business, as we don't want this high of momentum and think we have made it.
"We have got a lot of work to do to get out of our group, have a tough crossover match then get that elusive medal, but having 52,000 people here tonight with kids … and then to see us beat the United States, hopefully it gives them that rocket and in 10-15 years time we have 50 NBA players."
Bogut's 16 points and nine rebounds were exceptional, while Patty Mills scored a game-high 30 points including a dagger three-pointer off the backboard in the closing minutes.
Mills said he hoped the win would feed the sport for years to come and foster more growth. He also said he tried to take in the win but refuses to let it distract the side from the World Cup.
"Those things are always tough because you blink and things can be over. I tried to take a moment and soak it up," Mills said.
"This is awesome. There are basketball fans out there in the country and they needed something like that. Hopefully we can back it up and keep building on it."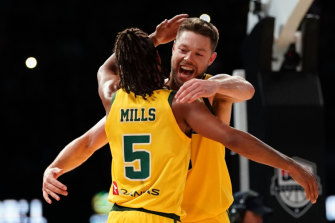 Patty Mills and Andrew Dellavedova celebrate Australia's shock win over the USA.Credit:AAP
USA coach Gregg Popovich, who coaches Mills with San Antonio in the NBA, congratulated the Boomers and coach Andrej Lemanis but vowed the USA would be better for the loss.
"It was really a testament to how long they have stuck together to get this accomplished," Popovich said.
"As I told you all after the last game, Patty is a pain in the ass.
"The Aussies gave us a great lesson on how you have to play at this level."
After game one of the series, the promoters and Basketball Australia came under fire after a "couple of hundred" ticket-holders complained about the lack of NBA superstars in the US side and the viewing angles in Marvel Stadium, especially in the ground-level seating.
But Bogut said he hoped the win and the overall experience would get the country behind the Boomers.
"We have got a group who feel like we can beat anyone in the world," Bogut said.
"That's the first time I've felt that with the Boomers. Guys in this locker room get pissed off if we lose – we need to carry this into Canada, Senegal, Lithuania and onwards."
The Boomers leave for China on Monday and the FIBA World Cup begins on August 31.
Source: Read Full Article