Australian superstar Andrew Bogut has dived into the spiralling controversy over China, Hong Kong and free speech that has engulfed the NBA, even as the world's most popular basketball league was furiously trying to extricate itself from the firestorm.
While the NBA was rapidly backing away from a hastily-deleted tweet by Houston Rockets general manager Daryl Morey supporting the pro-democracy protests in Hong Kong, saying they were "extremely inappropriate", Bogut was tweeting his thanks to the Rockets boss.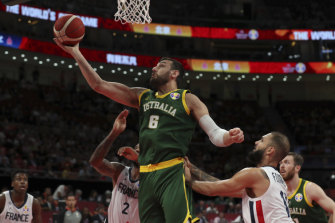 Andrew Bogut plays for Australia at the World Cup in China last month, where he was booed by crowds.Credit:AP
The outspoken Australian veteran had his own troubles after criticising accused drug cheat and Chinese swimming champion Sun Yang, leading to continual booing whenever he touched the ball in the Boomers' recent World Cup campaign in the country.
"Thanks @dmorey for taking some of the nmsl's I was flooded with….! Enjoy the next few weeks anytime you post anything!" Bogut said on Twitter. NMSL is a Chinese slang acronym meaning "your mother is dead" commonly hurled as abuse online.
Morey's statement appeared to have a swift impact on his NBA franchise.
Chinese internet giant Tencent, which recently signed a deal worth about $US1.5 billion ($2.2 billion) to stream NBA games in China, announced it would stop showing Rockets games immediately amid a loud backlash in China.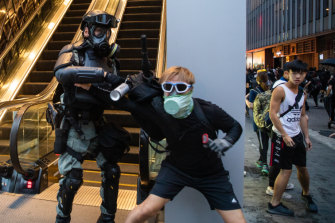 Riot police clash with protesters in Hong Kong, where residents are campaigning to preserve and expand freedoms unique to the territory within China.Credit:Bloomberg
Morey's remark triggered a loud backlash in China, where the Rockets have a large following because Chinese megastar Yao Ming played for the team from 2002 to 2011.
The NBA issued two different statements in response. The first, in English, said it was "regrettable" Morey's views "deeply offended many of our friends and fans in China" but also gestured toward the importance of free speech.
The Chinese-language statement, however, did not mention free speech and condemned Morey's remarks in stronger language.
Politicians across the political spectrum in the US slammed the NBA's backdown, accusing it of contradicting its commitment to free speech, which has seen it adopt a more tolerant attitude to social activism than other sporting codes.
"This is bigger than just the NBA," prominent Republican Marco Rubio said on Twitter. "It's about China's growing ability to restrict freedom of expression here in the US … Now private citizens risk losing their jobs if they offend China."
Other NBA teams, including the Philadelphia 76ers where Australian Ben Simmons plays, have ducked the issue.
Coach Brett Brown told the Philadelphia Inquirer his players "can do what they choose to do" and Simmons said he "did not know details" of conversations at the team about the Morey incident.
"You have to balance the interest of the market that you're trying to get into with the interests of your home market and there may be a backlash in the home market in this case," Dr Heenan said.
Bogut's team, the Sydney Kings, and Australia's NBL declined to comment.
Source: Read Full Article