Basketball sensation Andrew Bogut is reportedly nearing a return to the NBA after an award-winning season in the NBL.
The Golden State Warriors and Philadelphia 76ers are among "multiple contenders" interested in signing the 34-year-old centre, The Athletic's Shams Charania tweeted on Sunday.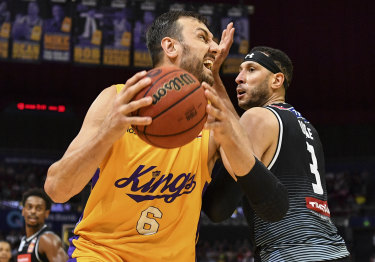 Andrew Bogut competes for possession. Credit:AAP
The No. 1 overall pick in the 2005 NBA Draft, Bogut played 13 seasons with five NBA teams from 2005-18 and averaged 9.8 points, 8.7 rebounds and 1.6 blocks.
His NBA career highlights include winning a championship with the Warriors in 2014-15 and making the All-NBA Third Team with the Milwaukee Bucks in 2009-10.
Bogut appeared in 23 games with the Los Angeles Lakers in 2017-18, averaging 1.6 points and 3.4 rebounds in 9.4 minutes per game.
An unsigned free agent, Bogut returned to Australia and played for the Sydney Kings in 2018-19. He was named the NBL's most valuable player and best defensive player. He averaged 11.4 points, 11.6 rebounds, 3.4 assists and 2.7 blocks and helped the Kings reach the playoff semifinals.
Reuters
Source: Read Full Article