Zak Crawley is set to open the batting in Sri Lanka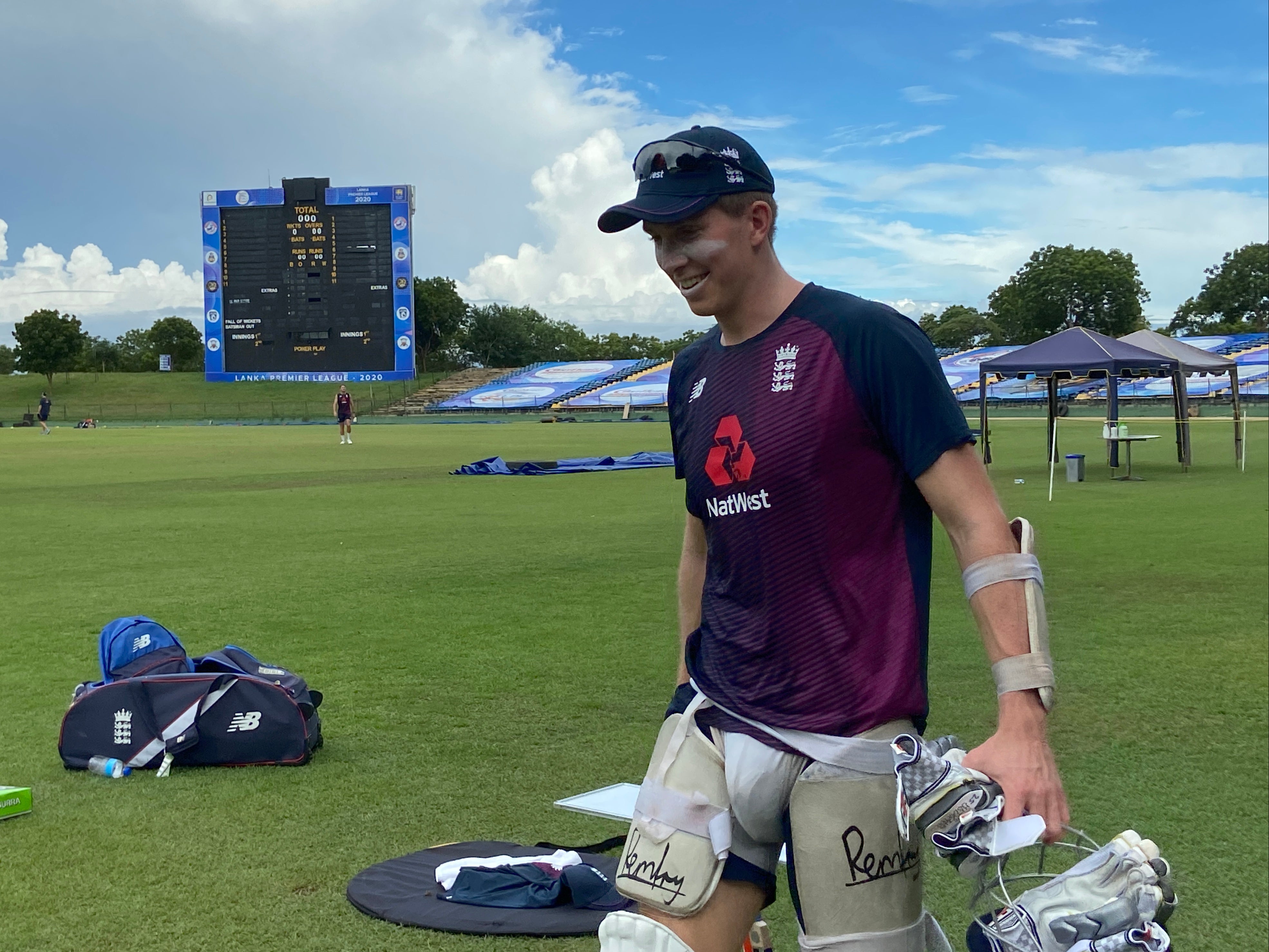 Zak Crawley in training in Sri Lanka
A lot of that maturity comes from mental preparation. Which, to be fair seems to come naturally to him, and the current restrictions of isolation plays into that. "You just sit down in a dark room and you think about it," he says. "Its as simple as that really."
"When you're going to bed and before you shut your eyes you're sitting there looking at the ceiling and thinking about how you want to play. I do quite a lot of that. During the days when you're just daydreaming, you're thinking about it and watching videos and just constantly thinking about how you're going to go about it. I find that if you think about it before you practise it that really helps in your practice."
Independent Rugby Newsletter
Live Rugby union coverage direct to your inbox every week
Read our full mailing list consent terms here
Independent Rugby Newsletter
Live Rugby union coverage direct to your inbox every week
Read our full mailing list consent terms here
A return to practising on turf, first at the academy in snowy Loughborough and now in the rather warmer Sri Lanka will have given that mental preparation a good outlet. Though there's still headspace for sympathy towards others, especially for Moeen, who will remain in his room under 13 January, the day before the opening match. "It's one of those viruses where people like us, who are quite young and fit, don't know we have it until we're tested. I feel for Mo. He didn't know he had it until he was tested. I feel for him. I'm thinking of him."
There's also a consideration for the fortunate situation he is in. Not just to be in a role that allows him to continue his employment as close to normal as possible as an elite athlete, but the responsibility that carries.
"We know a lot of people are struggling," he says. "You've got to be quite sensitive to that and observe all the right protocols, especially over here to have respect for people over here, as well. That's the main thing: these people have accepted us into their country at a tough time. We have to make sure we respect that. If someone tests positive – even if nobody does – we have to make sure we're using all the right protocols to be respectful to them."
If it's not too ruthless a thought, 2021 should be a year where Crawley will need to spend more time on himself. The history of the game, not just at the highest level, is littered with young stars shining brightly and fading just as quickly.
And broadly speaking, it's not through a lack of effort. Certainly, the 22-year old is not work-shy, as shown on his maiden tour, at the end of 2019 to New Zealand, when he stated his claim as one of the fittest in the squad.
However, kids who do well, especially those lauded by the media, become targets for opposition sides and grizzled veterans around the world over. And when you've made 267 in your previous Test, you are going to put people on notice. Mostly for bowlers who want to ensure you do not repeat the trick, but also others who want to bring you down a peg or two.
The latter did not quite play out when Crawley returned to county cricket following his double century, scoring first-class and T20 Blast centuries, both against Hampshire. But this year his towering, front-footed approach will be tested by Australia, India, Pakistan and, first, Sri Lanka. Nevertheless, he remains at ease and level, and certainly not like a marked man.
"You never really know you can score a Test hundred until you get one," he says. "It's kind of a monkey on your back until you get it. Now I know I can hopefully I can build on that. But it is very early days and I don't want to be a one-hit-wonder, get a big score and then fade away. Hopefully, I can secure my place and I'm not going to be living off that innings for too long.
"I managed to stay in good nick for Kent and that is the way cricket goes. When you are out of nick you can be the most average player in the world not matter how good you've been in the past. When you are in nick – you can feel pretty good. It's a humbling game so you shouldn't get ahead of yourself."
Even so early, he has experience of the slower, turning decks of Asia. He has been on two academy trips of India, and one of Sri Lanka. Most notably, he toured with England to Sri Lanka in March of last year, a series called off before the Tests began as the pandemic rolled towards the United Kingdom. Before the team returned home, they played two tour matches, with Crawley scoring 43 and 91 in the first followed by 105 in the second, against a Board President's XI.
That century, his first in England whites, was also his third in all first-class cricket before the match was later downgraded because Matt Parkinson had been drafted in as an injury replacement for Ben Stokes who had picked up an abdominal strain. The 267 more than made up for that. Though that hundred has been taken away, the experience cannot.
"The pitches when we came here last year were very good for batting. It might sound modest but it's true, so hopefully they're batter-friendly again.
"I really enjoyed that trip and when you do that you tend to play well. That's why I'm going to try and really enjoy it, even though we're in the hotel and we can't leave. When you're in a good place like that it's easier to play well and I certainly enjoyed the two weeks here, I loved Sri Lanka it's a great country.
"In cricket that is half the battle. I'll put in the work on the cricket and hopefully that takes care of itself from there on."
Source: Read Full Article