England's ODI series in Sri Lanka is wrapped up 3-1 and Eoin Morgan and his men might use the last few months before the World Cup to plug any loopholes in their preparation. One that particularly stands out, yet has rarely been under the spotlight, is their lackadaisical approach to bowling. England's batsmen have been so insanely good that the mantra for their ODI success has been to mock the opposition with "score what you can, and we'll beat it". It has worked too, for their batting line-up which is longer than Nile river has more than made up for their bowling follies which seem so irrelevant now that they aren't dissected enough.
As Sri Lanka racked up 83 in the final 10 overs at Pallekele in the fourth ODI and 366 in the dead rubber at Colombo, the issues with bowling became fairly clearer. Liam Plunkett, who was another tonked around for fun in the final ODI is an exception, though. The Yorkshire seamer has been paramount to England's bowling plans in ODIs for his sheer ability to pick up wickets at any stage of the innings and it is only in his absence that England seemed to have realised his value. "Liam [Plunkett] has been phenomenal for us for the last few years and when he went down injured in Australia and we found it very difficult to get a bowler with the same attributes, to bowl quick and change the pace of the game at any stage of the 50 overs," said Eoin Morgan, before adding of Olly Stone's debut: "There were signs today suggest Olly could be one of those guys. Even taking the new ball gives him a new string to his bow, Liam doesn't really do that. I don't think you can disregard Olly from the World Cup based on today."
The eagerness to find someone who is capable of doing what Plunkett does day in, day out was evident in Morgan's tone and rightly so. The seamer has been phenomenal as a strike bowler, picking a wicket roughly every 28 balls since the last World Cup. But the worry is how the others haven't backed him up. While England boast of their batting exploits, they remain the side to have conceded the most number of scores over 300 since the World Cup. Yes, they have played on baked wickets with nothing out there for the bowlers, but that they have lost 11 of the 20 games in which they concede 300 or more should worry the English.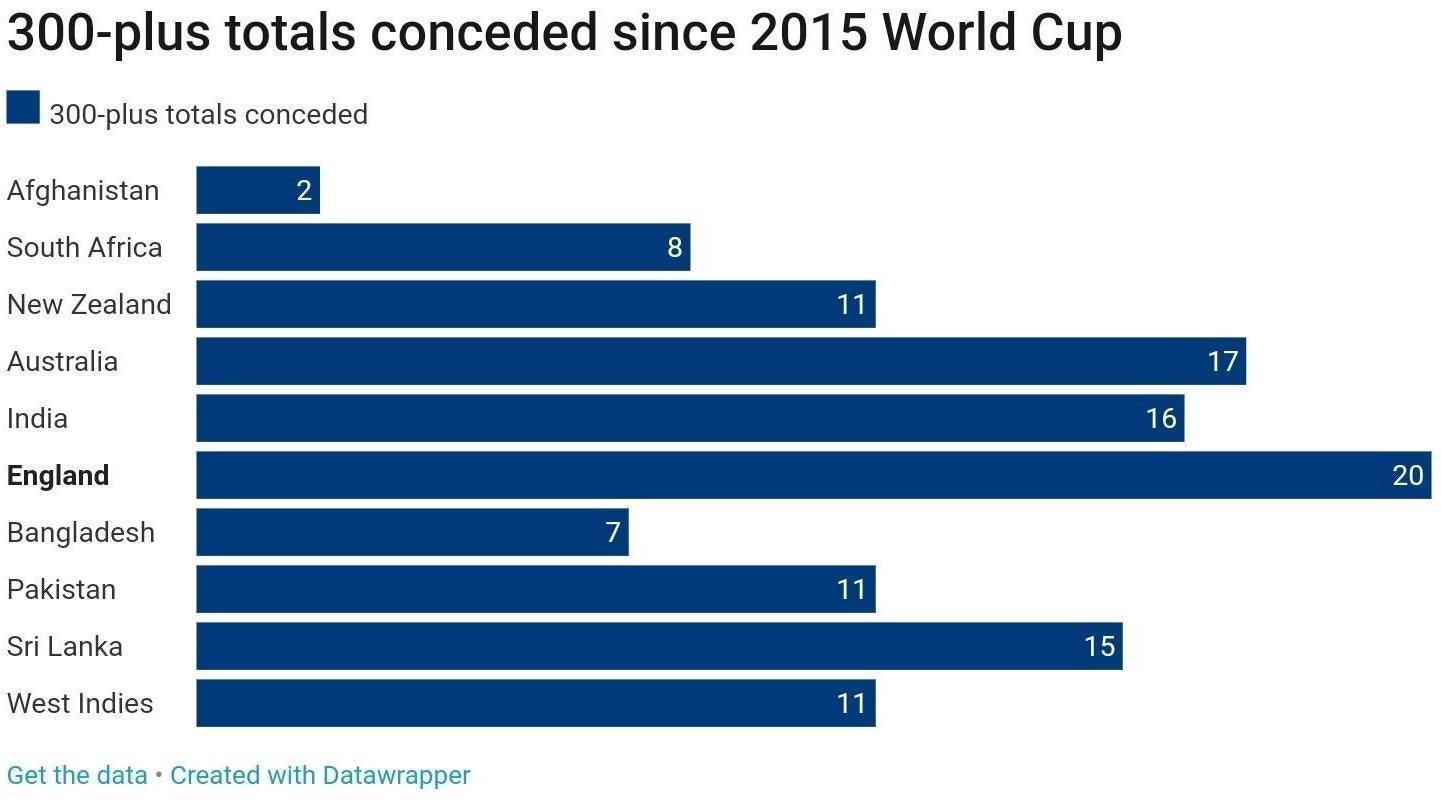 They may be one of the best ODI sides out there today but without ironing out their bowling frailties, England expose themselves to the risk of chasing a mammoth total in a must-win knockout clash at the World Cup. We all know where that one is headed. Disturbingly, their bowling performance has been glaring in matches they have lost since the World Cup. In fact, it is so poor that on comparing with other teams, England remain in the red zone courtesy of a poor bowling average and soaring economy rates.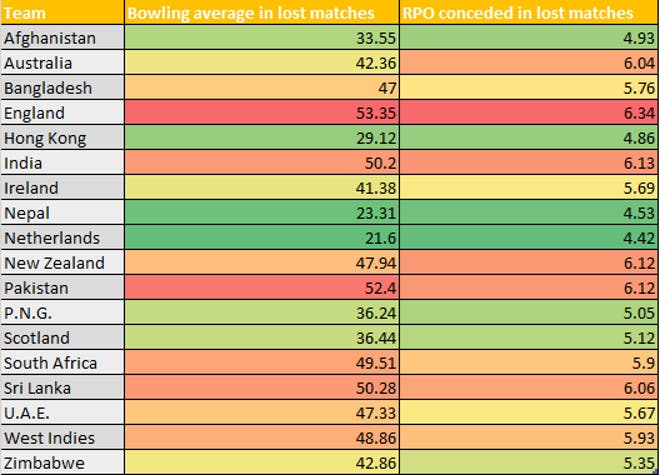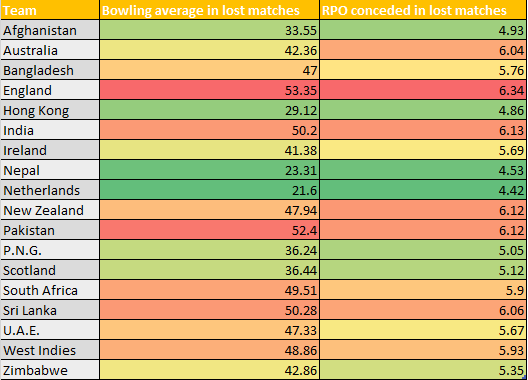 It is fairly clear that England have lost most of their ODIs owing to a clear lack of match-winning bowlers. Even as Adil Rashid and Liam Plunkett remain in the top half of most wicket-taking bowlers since the 2015 World Cup, the lingering feeling persists that England do not have enough bowling options to curb the run-rate or pick wickets at regular intervals.
This is compounded by the fact that most of the other nations have spruced up their bowling arsenal in recent times. Since 2015, England are among the shallowest bowling units with their bowling strike rate only worse than Bangladesh, Pakistan, West Indies and Sri Lanka among teams going to the World Cup next year. Note that this is coupled with the second worst economy rate for any team and it adds up to a deadly combination capable of wrecking England's World Cup dreams even before it takes shape.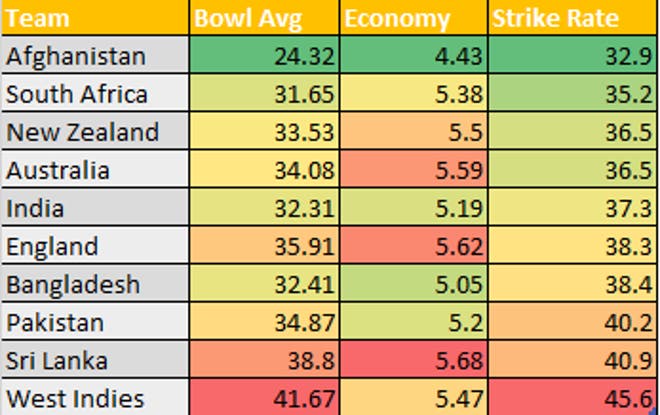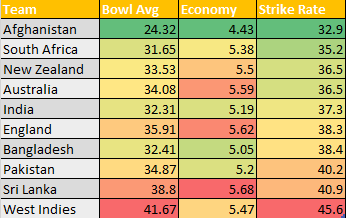 Among their bowlers, only Plunkett and Rashid have managed to salvage some reputation with 76 and 116 wickets respectively but the others just haven't played the wingmen role to perfection. Poor strike rates have marred most bowlers while not one of them has managed an economy under 5 (min 20 wickets). All of this has contributed to England's bowling demise but Plunkett has been particularly good at all stages of the innings which makes him an indispensable asset.
He has picked up wickets at a brilliant strike rate of 28.1 and, despite a bulging economy rate, is one of their more reliable death over bowlers due to his wide repertoire of deliveries and ability to mix them up. England's options in the death are far too few with Stokes, Willey and Woakes all guilty of conceding way too many runs. It is here that they largely miss an ally to Plunkett.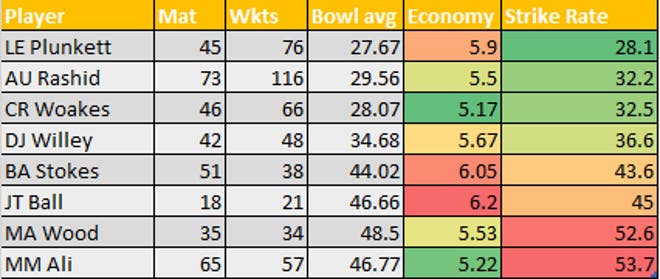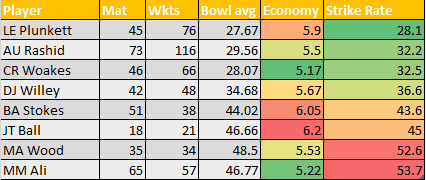 Without Plunkett in the side, England's economy and strike rates have grown. In fact, they have conceded 300 more often with him in the side but they also have managed to win more of these matches, indicating that external factors including conditions or nature of pitch have played a part in the soaring totals.


The lack of ruthlessness in the bowling unit is a result of missing wicket-taking bowlers who can scythe through opposition line-ups. An idiosyncrasy of winning teams is their ability to be merciless with the ball – the Windies of 1970s, the Aussies of 2000s and the Indian side of today have that quality. England though, have been reliant on one discipline and it is perhaps a chink in their otherwise polished armour that opposition teams would target.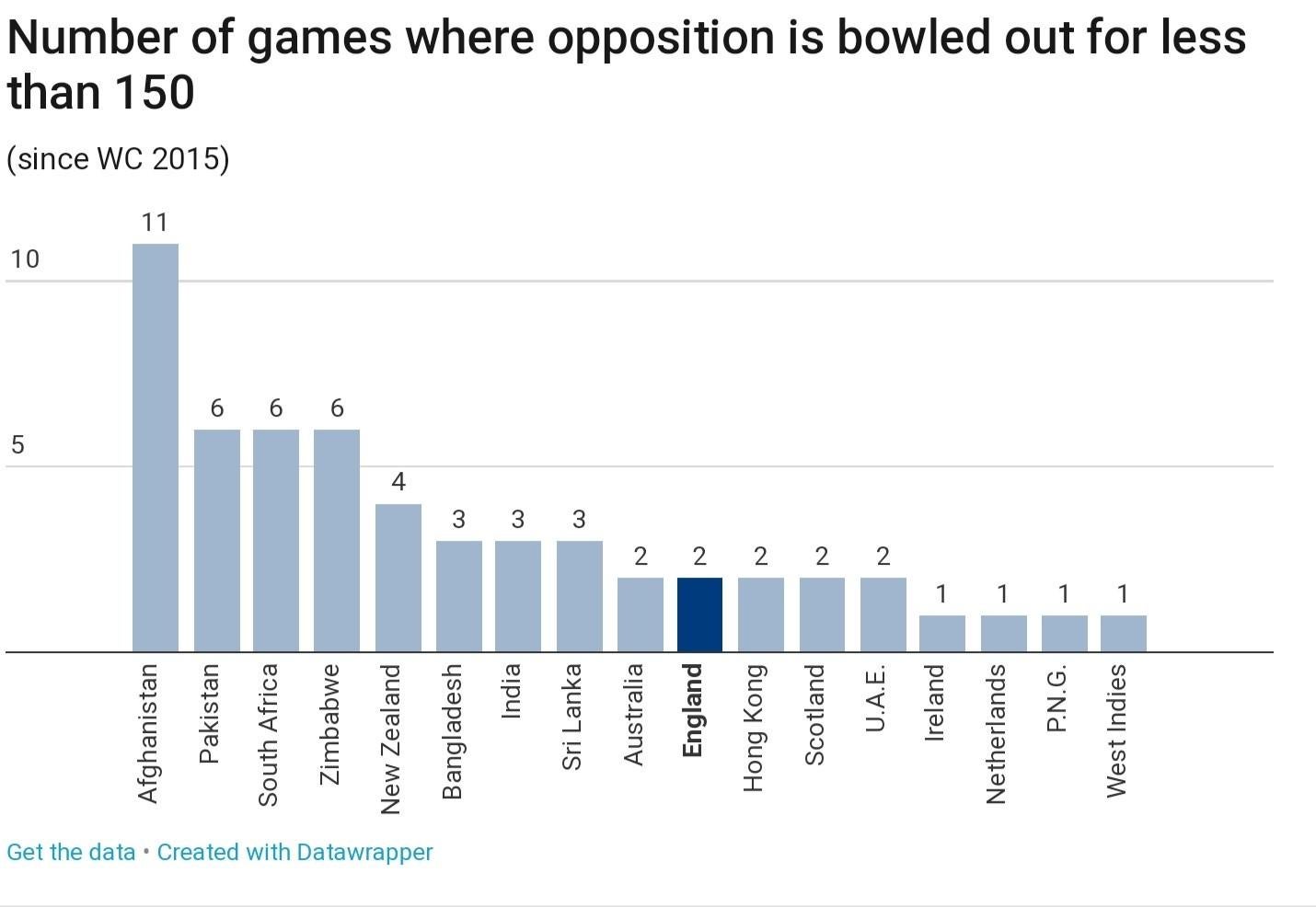 They have managed to clean up teams with ease less often and it could be what separates them from a dreamy World Cup triumph next year. While home advantage has been increasingly profound in the last two World Cup wins – India in India and Australia in Australia – it must be remembered that the sides flaunted one of the best bowling attacks for the conditions in the two tournaments. In the 2015 event, the semi-finalists were incidentally the top four bowling units in the tournament in that very order (Australia, New Zealand, South Africa and India).
Sadly, the same cannot be said of England who are so desperately in need of an ally for Plunkett that they declare at the first sight of a debutant that he is a World Cup possibility. Stone's path to the World Cup is an expressway if he can pick wickets at any stage of the innings but England would keep their fingers crossed and hope like hell that he fits the bill or they find another in the mould of Plunkett.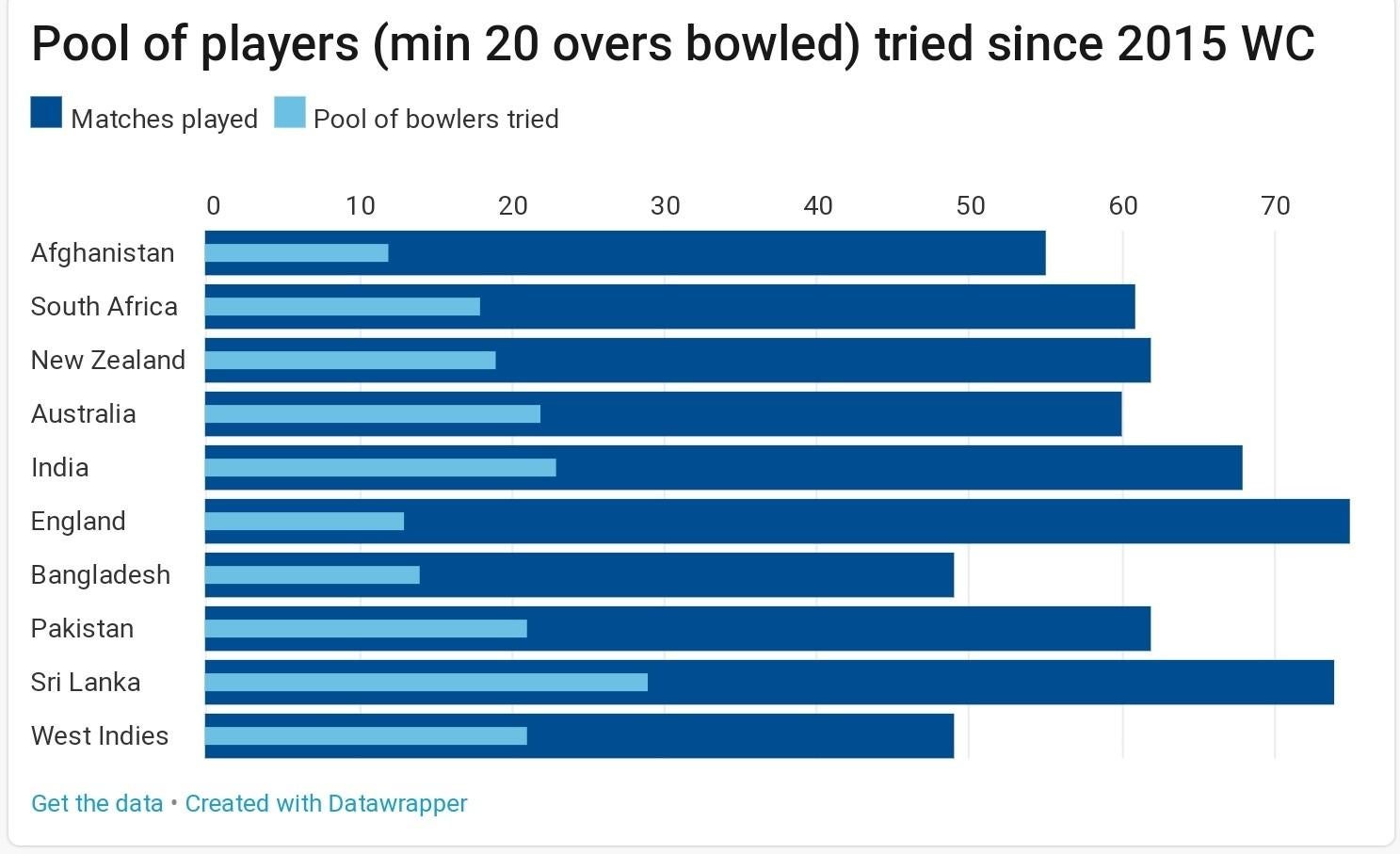 Bizarrely, despite prominent woes in the department, England have tested very few bowlers waiting in the wings to identify their Plunkett clone. They have played the most number of ODIs since the last World Cup, yet their bowling pool consists of barely 13 players (min 20 overs bowled) whereas teams like Australia and India boast of 20 or more in fewer games.
With the trophy within sights, national selector Ed Smith might want to dig into his database further and spread the net wider before it is too late.
All data used updated after fifth ODI between England and Sri Lanka.
Follow the Independent Sport on Instagram here, for all of the best images, videos and stories from around the sporting world.
Source: Read Full Article