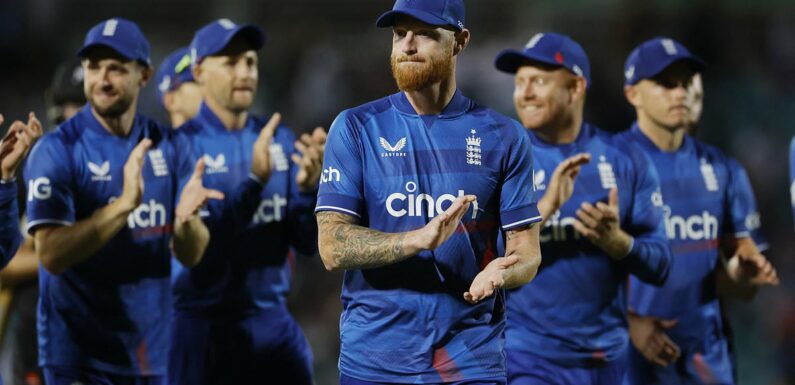 England's cricketers see Ben Stokes as 'a superhuman' after his latest heroics, according to Chris Woakes, as he admits having Andrew Flintoff's insight in the dressing room is 'surreal'
England see Ben Stokes as a 'superhuman that can do incredible things'  
That's according to fast bowler Chris Woakes who said Stokes was 'unbelievable' 
The Test captain scored a record-breaking 182 against New Zealand yesterday 
Chris Woakes admitted that England see Ben Stokes 'as this superhuman that can do incredible things' after the England Test captain smashed a record-breaking 182 against New Zealand in the third ODI at The Oval.
And ahead of Friday's final ODI at Lord's, four years on from that World Cup final, Woakes insisted that even for a man like Stokes, such an innings would do wonders for his confidence after coming out of retirement for the World Cup.
He brought up his century off just 76 deliveries and hit 15 fours and nine sixes on his way to England's highest ever individual ODI score.
'He's an unbelievable cricketer but coming back into the team having retired, it will do his confidence a world of good,' said Woakes.
'We all have doubts and performance anxieties at the best of times, so great for his confidence and great for the team's confidence and belief that we can post huge scores.
England's cricket team see Ben Stokes (pictured middle) as 'superhuman' according to Chris Woakes 
Woakes (pictured) lauded the England Test team captain after Stokes led the ODI side to a victory over New Zealand with a superb display with the bat 
Stokes (pictured) scored a record breaking 182 against New Zealand in the third ODI at The Oval to give England a 2-1 lead in the series
'For Ben to come back after the Ashes, it's like a breath of fresh air for him without the captaincy on his shoulders and he epitomises what the team is about, in terms of taking the attack to the opposition. 
'The way he got out in Southampton is the way we want to play and put the pressure on the bowlers,' Woakes added.
And Woakes – who took three for 31 on Wednesday in his eight-over spell with the new ball – revealed just how much he has enjoyed the company of Andrew Flintoff, who is with the England squad in a mentoring role.
'Having Freddie around the group is amazing and I've thoroughly enjoyed it. It's the first time I've spent a large amount of time with him,' said Woakes.
Woakes also said it was 'amazing' and 'surreal' to have Andrew Flintoff (pictured) in and around the group 
Flintoff (left) has returned to the England set up to take on a coaching role after he was involved in an accident while filming Top Gear back in 2022
'I've met him on a few occasions but to have him around the group – for me, he was a hero of mine growing up. To pick his brains and chat a bit of rubbish with him in the dressing-room is surreal really. It's great!'
England expect to name their final 15-man World Cup before their series against Ireland, which starts next Wednesday and with Jason Roy unable to play any of the first three ODIs due to repeated back spasms, Woakes insisted that the opener will be 'desperate to get out there' at Lord's.
'I think he's hopeful (of playing). He was close to playing in the morning (on Wednesday). It's a shame when he got to the Oval and started moving, he had another twinge again,' said Woakes. 
'This close to a World Cup, it's a risk to throw him into the game when you're unsure as to how he's going to go so fingers crossed, he's alright for Friday. I'm sure he's frustrated as well. Pre-World Cup you want to get a bit of form behind you and play as many games as possible but he's a resilient character. The lads have got around him and I'm sure he'll be fine.'
Source: Read Full Article