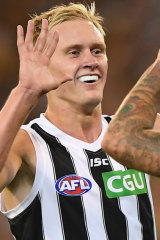 Banned: Jaidyn Stephenson.Credit:AAP
If you examined only the nature of the bets – placed on teammates and himself in three separate Collingwood games – the 10-week ban meted out to Jaidyn Stephenson will look lenient.
Some of the AFL commission thought so. In the discussions with Collingwood, the AFL executive raised the prospect of sending Stephenson down the river, including a suggested ban that would have stretched into 2020, while they mentioned "two years" as a possibility in what parties say was a throwaway line.
If you focused only on the size of the bets – an aggregate of $36 – (and disregarded their nature) the 10 weeks will appear harsh.
So, the eventual outcome was a classic AFL McLachlan-era compromise, barely but just hard enough to appease the AFL commission but just light enough to prevent Collingwood from raising hell and turning a quiet settlement into a dog fight, potentially involving lawyers.
If Stephenson is fortunate to be able to return for the finals, given he has bet on teammates in three games in what were egregious breaches, he is still the recipient of the heaviest sanction for betting by any AFL player, surpassing another (then) moronic Magpie, Heath Shaw (2011, eight actual matches, also the remainder of the home and away season).
The suspicion is had the investigation been wound up two weeks earlier, Stephenson would have been handed a 12-week ban, enough to wipe out the home and away season, leaving the finals open.
Stephenson's position was enhanced by the fact that the AFL would never be able to dangle self-reporting as an incentive had they acceded to the hanging judges on the AFL commission and suspended him for a significantly longer period.
Relative to past suspensions for gambling and, indeed, other breaches of AFL integrity (excluding the Essendon saga), the 10 matches – the 12 weeks that were suspended should be disregarded – looks much tougher.
Daniel Ward bet on Melbourne in 2007 and was only fined. Shaw bet $10 on Nick Maxwell booting the first goal, based on inside knowledge that his skipper would start forward and, unlike Stephenson, there was no self-report by Shaw or Collingwood.
Lachie Whitfield was given seven matches for dodging a drug test (that didn't take place), Kurt Tippett was given 11 weeks for receiving under-the-table payments, while the Adelaide chief executive who presided over the salary cap violation was given six months, in part due to co-operation. Dean Bailey was given 16 weeks for his part in tanking, for which Chris Connolly paid the higher price of 12 months.
Stephenson was lucky if you judge the sentence only on the type of bets, unlucky when comparing him to past players and officials who've transgressed on integrity matters. While he will never repeat the mistake, in time another dumb player will.
You can count, if not bet on it.
Source: Read Full Article