Cricket Australia are open to an outsider taking one of the two recently created team performance executive roles.
CA recently confirmed that the role left vacant by Pat Howard's departure would be split into two – an executive general manager of high performance and an executive general manager of national teams.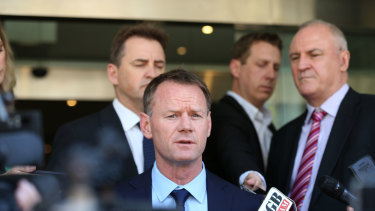 Pat Howard was a controversial high-performance boss.Credit:Anthony Johnson
The national teams role will be dedicated to working with the men's and women's national teams. A cricket background has been declared essential for the role, with CA stating earlier this month that "the candidate will have a deep understanding of the high performance elements of cricket, including the management, coaching and playing perspectives at the highest levels of the game."
The high performance manager will work closely with state and territory associations, with the position's responsibilities to include the management of domestic competition, talent pathways, national youth teams and sport science.
CA have employed recruiting firm Egon Zehnder to help fill both roles. The Age understands that candidates for the positions recently received correspondence from Egon Zehnder outlining in greater depth the position description for the pair of roles. Whereas cricket experience is considered a non-negotiable for the team position, it is not mandatory for the high performance job, although having a cricket background would be considered ideal.
That is despite one of the major criticisms of the polarising Howard being that he didn't come from a cricket background, having come from rugby, including earning 20 caps for the Wallabies between 1993 and 1997.
Having a sport background is however a non-negotiable for the role, while a history of leading cultural change is necessary, particularly pertinent given the deep-seated cultural issues in Australian cricket identified in the damning Longstaff Report released at the start of the season.
Australian cricket great Belinda Clark has filled the Howard role on an interim basis since November, and will continue to do so until the new positions are filled, expected to be mid-year. She also remain executive general manager of community cricket.
CA have also been in the process of replacing assistant coach David Saker with another bowling coach for the crucial World Cup and Ashes tours. CA indicated to states that they were open to having separate bowling coaches for the World Cup and Ashes. Troy Cooley has been filling in since Saker left in February.
Source: Read Full Article